Update Required
To play the media you will need to either update your browser to a recent version or update your
Flash plugin
.
Click to listen to the Audio interview << Heroes >>
---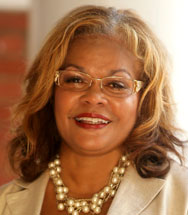 Geraldine Jones
Geraldine has served with distinction at her beloved California University of Pennsylvania for many years, but never imagined she would be asked to serve as acting president at such a time as this. Yet when you talk to her, you get the sense that she is exactly the right person for the job of bringing healing and vision to Cal U. Geraldine is not serving as a lame duck president, but is leading with everything she has. That said, it is clear that Cal U of PA is in good hands these days.
JS: I'm honored to have a woman with me today that I don't know very well, but I know of. Her name is Geraldine Jones. Geraldine, welcome to the Urban Heroes program.
GJ: Thank you, John. Thank you very much.
JS: Now, I don't know much about you, but I hear all about you all the time from Karla Byrd, who is one of your biggest fans. And, of course, she nominated you for the Urban Heroes program. But tell our listeners and readers about who Geraldine Jones is.
GJ: Okay. I always think I'm going to have time to think about this. And I don't. First of all, I'm a mother, wife, and granddaughter, and currently the acting president of California University of Pennsylvania. One might wonder why I would put those in that particular order. I've been married for 38 years to my wonderful husband Jeffrey. And we have two wonderful daughters, and one grand-daughter. And those are the things that are most important to me. Because even though I've been at the university here for 40 years, at one point in time, I would move from this role and I would move into the next phase of life retirement. But my family is always the most important part of who I am. So I love being the mother, the wife, the grandmother, the daughter, the sister; those are all the individuals who've influenced who I am today.
JS: What does your husband do?
GJ: He retired three years ago. But he was in corporate America in the computer industry, in business. He worked in several companies from Unisys to HP, and a few in between. So he traveled always and was on most of the continents. So he has a good appreciation for all that I am involved with in my new role as acting president of the university.
JS: How long have you been acting president?
GJ: [Since] May 16, 2012.
JS: And of course we know that there was a little bit of publicity around what was going on down there. So how are things going? How has the transition gone for you?
GJ: The transition has gone very well. First of all, this is an excellent university. I've been here at the university for 40 years. And, so the university is an excellent place to be. We have wonderful faculty and staff here. Universities, you're always going to go through transitions. But with the wonderful faculty and students that we have here, we have been able to weather the storm and have a number of good things that are in place.
JS: Now 40 years in education, and in one place. You've got to know, had to know that was your purpose. Talk to us a little bit about the journey that led to starting it, at California University, and led you to stay there as long as you have.
GJ: Okay. I'm alumna of California University as well. And when I graduated from the university with my undergraduate degree, which was in education, I started as an elementary school teacher, in one of the local area school districts. And then I had the opportunity to apply for a position here at California University, at the department of academic development services. And I left a tenure track position in the public school system to take a temporary faculty position here at the university. And my first office at the university was the, I shared an office initially with one of the other staff members, then my own very first office was formerly the janitor's office. And when I moved out of that office, the janitor moved back in. So I like to say that I started here in my first office was in the custodian's office to now the office of the president.
JS: Yeah. Before you go on, why leave a tenured position for part time, that you don't know what the future holds. What was going on in your life?
GJ: That's a very good question. I was getting ready to be married. I started teaching in August of '72 and in '74 I had the opportunity to come to the university. And it was a temporary position that I wasn't even sure if it was going to last more than a few years. And having a conversation at that time, not only with my then fiancé, now my husband, but with my father. And my father said, you know you're young enough; take the challenge. You never know.
So I decided to do that, and it was one of the best decisions that I could have made. And in leaving education, I loved teaching in the public school system. And the superintendent at the time, when I had to place a call to him to tell him that I had accepted this position, I'll never forget the words that he shared with me. And he shared that they were not going to have a school-board meeting for a month. So if I left and came to the university and didn't like it, I could always return back to the school district, because they were very pleased with my performance and my work there. So that really gave me a good way to leave, knowing that my expertise was valued at the public school system. And it really made me have a nice smooth transition from public school to higher education.
JS: Did you in your wildest dreams ever think you'd be sitting in the president's chair?
GJ: No. No I didn't. And I'm really appreciating this opportunity to be in this role. And when I talked with some individuals, some individuals have said, everything you have done, you may not have been preparing necessarily for that role. But everything you've done has prepared you for that role. And I would agree with them on that level, because I started here as a faculty member, and then I had the opportunity to move into management as an associate dean, for the college of education. And then as the dean for the college of education. The opportunity presented itself for me to be the provost of the university here, and that role was second in command at the university. And then upon the departure of the former president, I was then in the line of succession, I moved into the acting role. And so this has worked for me, and I want to believe for the university as well, because there is great support for the work that I am doing now. It's a wonderful place to be with wonderful individuals here.
JS: Is there a search going on for a permanent president? Will you be included in that search? And if you can't comment, or don't want to, that's fine.
GJ: At this time, there is not a search that is going on. And we have the council of trustees meeting just last Tuesday, and the council of trustees recommended that I move from being the acting president to the interim president.
JS: Ah, congratulations.
GJ: Now, that goes to the board of governors, and they should act on that recommendation at the B.o.G. meeting that's scheduled for April. But at this point in time, there have not been any announcements about when they're going to do the search for a permanent president.
JS: Alright, so, you're the man, woman, for right now.
GJ: And I'm enjoying this role for as long as this is. And, as long as I believe that I have something to offer in the role as acting president, and then interim president. As long as I have something to offer, and I can continue to make this a great institution, I'm willing to stay in this role.
JS: And I hope that they will allow you to do that. How about church involvement? Are you involved outside of California University with any church?
GJ: Yes. I'm a lifelong member of Mt. Zion AME church in Brownsville. And I started playing as the church pianist and organist when I was 14 years of age. And so I've played for the choir all of those years. I sometimes have to miss being in church on some of the Sundays because of my travel plans. But I'm the church pianist and organist, yes.
JS: Well whatever you do, it seems like you do for a long period of time. I mean you don't do anything for just a few years, do you?
GJ: You know, it doesn't seem like that! I've been truly blessed in that regard, that I've had these wonderful opportunities. And when I say truly blessed, I am. And I thank God each day for the many, many blessings that He's bestowed upon my life.
JS: Obviously the church has had a big role on your life. How do you think it had a prepatory role for what you're doing now?
GJ: It has really prepared me because from a young age, I started, while I shared with you that I started playing the piano when I was 14, I started Sunday School even earlier than that. And my father at that time, because I'm 62, so all of those years ago there were time when I would walk; and it was about a mile to walk to Sunday school. And I was so young and so small, that the Sunday School teacher would actually have to lift me up to set me in the chair. So I grew up in Sunday School. I grew up in the youth choir. I played for the youth choir for a number of years. So all of the things that I did here, helps me to understand that in order to be successful, and I wasn't even thinking about being successful, but everything you wanted to do, you always felt good when you were helping others. And, I truly enjoyed and appreciated that. And I worked with the young groups in my church as well. And I think that helped me want to become that teacher in a public school. And so I always had the opportunity to do that. And some of our individuals at church would have younger children. And my house was right next to our church. So after church, many times, if there were young children there, I would take them over to the house and I would make cookies, and help to entertain the young people there. So I've always enjoyed doing that.
JS: Now Karla Byrd and I have been friends for about 14 years, and of course I found out that she went to California University; was it California State at that time?
GJ: Yes.
JS: And you know, I never thought of California being a place that an African-American would want to go. And now they have an African- American as a soon to be interim-president. Talk to us about the role you see Cal. playing in the shadow of an urban area of Pittsburgh, down where you are. How do you see all that? And now as the leader, what do you do with that in the future?
GJ: Karla and I were here at the university, at the same time, and we were both in the same sorority, Alpha Kappa Alpha. And at that time, there were not many African-American students and individuals when we were here. And it gave us an excellent education. And if I think back to the number of young men and women who were in school with Karla and I when we were here, we all graduated from the university and all found our way, and have had very successful careers. So the university did lend itself to that opportunity. Now, were there some struggles and things with individuals being here at that time, because you were in a rural area? And even for young people, knowing where they could go to, for the young men, where they could get a haircut, or for the women to go to have their hair cared for. But we all were a very close-knit group of individuals. So we were able to get through all of that. And then advance.
As the years moved on, the state system schools, and in particular, California is the one that I am talking about. We really began to reach out to the students of color, and primarily at that time, African-American students. And they've done well here. With so few students, and I've shared this with others at times, with the population of about 9,000 – and that's with our graduate school and online school as well – but with 7,800 undergraduate students, more years than not at homecoming, there is an African-American homecoming queen selected, or an African- American male. So the young people have really been able to fit into the culture and do well here.
JS: I didn't realize Cal. had that many students. What's the niche? What is the traction that would cause people to come to Cal, and make it as…I mean, I'm a Duquesne grad, and that's about as big as Duquesne. What's the attraction?
GJ: Well, we're one of the 14 state system schools. And when you're looking at a university, the cost of a public education is affordable for some. And then we offer excellent programming. We have accreditation of all of our programs. We have a very strong education program, a teacher education program. And we have niche programs; we have a criminal justice program, and athletic training programs, and a nursing program. So we offer programs that we believe students are looking for to earn their degree at, and we have excellent faculty. About 80% or more of our faculty have their earned doctorate degrees, and they really care about students. Our students do research with their faculty members, so it's a great opportunity and experience for our students, and we do a lot of our marketing so that they find out about this great institution.
JS: Do you think your proximity to Pittsburgh helps you with the opportunities that would be offered in the challenges of an urban area?
GJ: It doesn't hurt us. But in the state of Pennsylvania, you know there are over 93 institutions of higher education, and we're located close to the Pittsburgh area, where there are a number of schools in the Pittsburgh area. So that's also some of our competition as well. But we still pride ourselves on being able to assist those students with being successful at the university. And as I would share with students when I was the dean, and as the provost involved with the new student convocations: we want them to be successful. And when we admit them to the university, we want to provide all of the tools for success that we can for our students, so that they can graduate from the university successfully, in four years from the time that they enter.
JS: Now with a title as acting or interim, I would imagine the, perhaps the expectation of some, or the tendency of others in that position would be to tread water, so to speak. Or just maintain. What's your philosophy or strategy been in this last year, and for the coming months and years? How do you manage that when it's kind of a partial temporary title or descriptive to your title, yet leadership needs to take place? How do you balance all of that?
GJ: That's an excellent question. And that question has been asked of me before, and as I've shared with them, I'm not good as a caretaker. And you're right, when you step into the role, and if it's a leadership role, you don't have the opportunity or the excuse of saying, "You know I'm only the acting [president]. So therefore, I can't make these decisions." Decisions have to be made, and I realize that. And so you have to make decisions that keep the university moving in the right direction. You want to assure your faculty, your staff, and your students, that your university is in good hands at this time. And that we are going to continue moving forward with all the wonderful programming that we have in place. Because it takes more than just one individual to make this university a success. And so part of my philosophy and goal has been to help the faculty and the staff to understand their ownership in this as well. And in working together, you'd be surprised what can be accomplished.
JS: What's been your favorite aspect of the job so far? What do you like the best?
GJ: My favorite aspect of the job. I love meeting with our students. And why do I say that? We've got great students here, and if I may take a moment or two to just share that with you. My first days in office; it happened on a Wednesday. I got a call on a Wednesday that I was moving into this role. And then two days later, it was Friday; I didn't want the university community, meaning the faculty, the staff, the students, our alumni, and our donors to go over a long weekend without information. So I started doing weekly messages. And every week, from May until the first day of the fall semester, I did a weekly message. And I thought about maybe not doing those when the fall semester started. But so much was accomplished by that, that I continued doing it into the fall, but I did it every other week. And when I sent the messages out, I got good feedback from not only the students, but the faculty and staff as well.
But when you ask me what one of my favorite parts of the job is, it truly is the students. I have a student convocation, I had one in the fall, in August, and I just had another one just three weeks ago. And it allows the students to ask questions of me, but I give them the same state of the university address that I give our faculty and staff. But when I walk on campus, early on I had said, when I see you students, please come up and introduce yourselves and say hi. And they do. And so I'm getting in my car and leaving off campus, and they're coming up and introducing themselves. And then I go at least several times a semester to the Gold Rush, where the students have lunch. And I was there just last week. And so the students, I was walking in, and some of the students were walking in, and some of the students were saying, "Hello, President Jones." And then there was a group that said, "Hello, President Geraldine." And the first one said that, and I'm not sure if they knew how well I would receive being called President Geraldine. And I said, "Hello. And thank you for saying hello." Well then the other students in the group all started doing the same thing. So, it's just good to be with the students. We've got bright and talented students that care about this place.
JS: Yeah, it keeps us young. And now, we're the same age. So I'm going to ask you a question, so you don't think I'm getting out of school. You're looking back now 40 years, can you pick out one or two or three defining moments? Things that happened that helped shape and develop you as a leader to prepare you for today? And maybe not such good things, but some difficult things?
GJ: As I said, I had the good fortune of earning my degree here from the university, and when I was a student here, I had the opportunity to represent the university in the Miss Pennsylvania pageant. And that was an academic scholarship pageant. And at that time I sang, and I happened to win the talent award. And I was a runner up in the pageant. But from that, it helped me really know that the university was here to help me with a number of things. And as a result of that I always wanted to give back to the university. So that was good in that it really started you in a leadership role. Because you were asked to attend other kinds of functions. And then you were always asked about the university. So from my early years in the thing with the university, I had an opportunity to represent the university.
JS: Then down through your professional career? Any defining moments? Anything take place that stands out to you that helped prepare you for the presidency?
GJ: I was one, at the university, and as you know, being a person of color, there were times when if you had search committees in place, you were asked to serve on a search committee, because you always wanted to have persons of color represented. And you also wanted to have females. Well, I always said, that is fine. If that is something that they are needing from me, what am I able to get from this as well. So it was a great experience for me, so I served on a number of search committees at the university. So I got to know a lot of the faculty who were being hired at the university, and other key positions here. So I always tried to look for what were those opportunities for me. I never had negative experiences, because I saw them all as opportunities.
JS: You sure have. I'm trying to needle something out of you, but you just won't give it to me, because you see everything very positively, and that's great. How about your faith? Have any challenges with your faith being expressed in the setting where you are. Any defining moments there or any decisions you had to make that were difficult but you came down on the side of what you knew God wanted you to do?
GJ: My faith is always, and anyone who knows me understands all of that, and I know I've had those kinds of discussions with individuals here at time. There was a former person who was here at the university, and you made the comment that I'm always positive. And I got that from my father. And my father also always said, don't ever let anyone take your kindness for a weakness, and I don't. But that's just who I am. I just love life, and I have truly been blessed. And in anything, I always ask God to help me through any situation that it is. Even when I moved into this role. It was like, you know, God help me through this, and guide my steps, so that I will do all the right things in this position, and in this role. So, life has just been wonderful. I've been truly blessed.
JS: Sounds like dad had a big influence on your life.
GJ: Yes. And I lost my father 11 years ago. And he took me to my first day of kindergarten. And he also say in the auditorium on my first day of college here at the university. And he was one that always said that you could do anything that you want to do. But you've got to work at that. And nothing is going to be given to you, and you have to work at that. I was a candy striper, and there was one particular weekend that I didn't want to go and work. And my father said, did you tell them that you would be there? And I said, yes. They're depending on; then you will be there. So I got a good work ethic from my father as well.
JS: Okay. So you're going to move from acting to interim. What's the future plans? What are some of the initiatives, that if it were up to you, you would like to see Cal U. adopt and move forward on?
GJ: There are a number of things. Our most recent strategic plan that we were working on had come to an end. So even though I'm in an acting role, you still need to have a strategic plan. And so that strategic plan will be to prepare and get this university ready for its next president here at the university.
So, last fall we experienced a decrease in enrollment for the first time in a number of years. And there are some contributing factors that we believe may have influenced that. And we also want to, as I've shared with the university, the three goals that I plan on working on doing this time. One is to stabilize and restore our enrollment at the university. And the second one is to get a balanced budget and become financially solvent and introduce financial solvency principles. And what I mean by that is not spending more than the revenue that you are going to bring in. And then to also, with our foundation area, work with our fundraising team to generate dollars for the university for scholarships, so that we can help to offset the cost of a higher education for the students who would come to California University.
JS: That'll keep you busy.
GJ: Yes! That will keep not only me busy, but also to those vice presidents of those areas and to the staff in those areas. And I shared with them, and none of these goals are insurmountable, we just need to understand what are the areas we want to focus our time and efforts on?
JS: Do you have a typical day? A schedule or a rhythm that you fall into?
GJ: Sure. And it changes some. I'm always in here by eight o'clock, and sometimes before that. I'm normally here until seven in the evening, or so. Now if there's a dinner going on, I may be here a little later. I have a lot of meetings through the day when I'm here on campus. And I like meeting with my vice presidents and my direct reports, so that I can clear the path for them, so that they can do the jobs that they've been hired to do here. And then in the evening, that's when I begin to take care of some of the work that I do. And I do it here in my office, because it's a wonderful place to work. And that's where all my time and energies are at that time. And then when I leave and I go home for the evening, then as I always say, my other life kicks in. And my life is my husband; so you have to have balance. And so that's a typical day; meetings with staff, or attending events that either the faculty have invited me to, or students have invited me to, or meetings that are off campus. But they're all good days.
JS: What's your husband doing with all his time now that he's retired?
GJ: Now that he's retired, he always had an interest in photography. And we live in the town of Brownsville, so he started an art gallery. His medium is photography. So he has a studio there, and he not only displays a lot of his work there. But now he's beginning to take in some of the work for other artists in the area. And this past December, with the high school in the area, had days when the young artists from the school were able to display their work there. So he stays busy doing that, and he's a wonderful supporter of mine. And some individuals say, he's the first man here, and it's different because we've always had a male president here. But he attends the functions and he appreciates and enjoys that, and everyone loves seeing and talking with him. He has a lot to offer.
JS: Well that's great. So President Geraldine, as we wrap up, you're a woman of purpose, you really have tremendous focus, great enthusiasm, a positive attitude. Any closing words for anyone reading or listening, and they're just about to embark on their own journey. What words of wisdom would you have for them?
GJ: Words of wisdom for them, would be, just always accept those wonderful opportunities that are there. And keep your faith, and that's what helps to keep you grounded, and know that anything is possible. And if I can share this with you, and what I mean by that, as I shared with you a little earlier: I have two daughters. And my one daughter, she will married for 13 years in June. When she was first married, and they bought their home and they were setting up their home, and she couldn't find the drapery that she wanted. So she went out and got a sewing machine and she made them. And, they were beautiful and they were gorgeous. And the reason I'm sharing this with you is, and I said to my daughter, "Autumn, how is it that you knew how to make the draperies?" And she did an excellent job. She said she didn't know she could do that. And I asked where she got that from. And she said, that's what I had always told her. That you can do anything that you put your mind to, and you can do this. And as a result, she's now a stay at home mom. Her husband has funeral homes. But she's raising her daughter that same way. And now she's doing some interior decorating for individuals, because she has an excellent eye for all of that. But, never doubt yourself, and she tells her daughter, the same as I shared with both of my daughters: you cannot use the word "can't."



U R B A N H E R O E S