Update Required
To play the media you will need to either update your browser to a recent version or update your
Flash plugin
.
Click to listen to the Audio interview << Heroes >>
---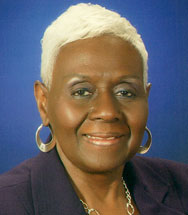 Lee Howard
When it was announced that Lee Howard was the valedictorian of her CUBM graduating class, she was perhaps the most surprised person in the room. That is how Lee is: unassuming, humble, but with a strong desire to produce excellence in all she does. She is now enrolled in the Geneva College Adult Degree Completion Program, pursuing a degree at an age when most people are looking to slow down. Lee enriched CUBM with her presence; she will now enrich your life with her story.
JS: Lee Howard. Lee, welcome to the Urban Heroes program.
LH: Thank you, Dr. Stanko.
JS: It's great to hear from you. And, now as we have with all of our interviews, we just get started by having those who we're interviewing, tell our listeners and our readers a little bit about yourself. Tell us who you are and where you live and those kinds of things.
LH: Well, my name is Lee Audrey Howard. Presently, I live in Monroeville, PA and have been a resident there for several years. A matter of 27 years, I believe. There was a time when I moved away for about two years, but then I came back, I like the area so well.
JS: Yeah, I'm a Monroeville-ite. So I understand.
LH: It's a good place to live. As I said, I've been here for several years and enjoy the community. I raised my children.
JS: How many children?
LH: I have four children. I have three biological children, and one child whom I adopted.
JS: And tell us about your life during the time you were having and raising children.
LH: Okay. It was fun! Well, first of all, let me say this: when I was a child, I kind of fantasized, because you know, I was playing with baby dolls [at the time]. And I wanted to be a mother of five children. And then when I got married and started having children, I ended up with three children, which I was very excited about. But then due to circumstances, I ended up with five children. So it was like a dream come true; not the way I expected it, but it did happen.
But raising my children here in Monroeville certainly was a blessing. We are Christians, and we did raise our children in church. We belonged to the Holiday Park Baptist Church when we first moved into Monroeville, my husband and I. And then we went to Oakmont, and became members of the Saint Paul Baptist Church in Oakmont. My children, my oldest daughter Brenetta, she went to Gateway School, as well as all of them. She became a cosmetologist, and I don't think she spent a lot of time in that field, because she moved from there into the medical field, as a medical assistant. My son Verne was a star football player for Gateway School District; grew up here in Monroeville, graduated from Gateway, and went on to West Virginia University; graduated from there with a master's degree in engineering. Also, Bernice Howard, who was the youngest child at that time, she graduated from Gateway High School and went to Duquesne University with a bachelor's degree in business administration. And then went to Maryland for a job and she attended and graduated from Trinity Catholic School for her masters. So she has an MBA in business. All of the children, I think, have done well. I'm so very proud of them. And then here comes Lanae, she's the baby girl at this time, who was my grand-daughter in the beginning. And I did adopt her after her mom passed away and my husband died. She too completed her education at Gateway, graduated from Geneva College with a master's degree in leadership, and also became an entrepreneur in daycare business, which she has just recently given that up. Now she's home with all of her children. And my other daughter, Brenda, well actually she is my grand-daughter whom I raised, along with Lenae and my children. She went on to live in Washington, D.C., and from there to California, where she's raising her children in California, and finishing up her degree in California, even as we speak. So those were my five children.
There were times in our family, we had some drama, as most families do, but God certainly did bless us. And consequently, the children never gave me a problem. I was so blessed to be able to raise them without incident. And pretty much the normal things happened, so we were very blessed with that.
JS: How long ago did your husband pass away?
LH: My husband passed away in 1990.
JS: Was he ill, or was it a surprise?
LH: No, he was ill only for a short period of time. He became ill in 1989, four years after my mother passed away in our home, he became ill, and it was colon cancer. And when he found out he had it, the doctor had given him seven months to live. And he lived out the seven months. I did bring him home from the hospital and took care of him for seven months, while I was running back to West Virginia, and so forth and so on. As well, I was working at the municipality of Monroeville, a full-time job there as a secretary in the accounting department, while I was taking care of him until he passed away in March 1990.
JS: Now I'm sure that added much more burden and responsibility to you and for you to be raising the children. How old were they at the time?
LH: Well, Lenae, as I said Elena had left. As a matter of fact, she was young enough at that time to be under the care of an adult. So she went to stay with another grandmother. And Lenae was ten years old at the time. And Annetta, had moved out of the house, she was an adult. Verne was still in college; he was 20. And Bernice was 18.
JS: So everybody was a little further along in life. But I'm sure it was still devastating to them.
LH: It was devastating because you don't really think of those things happening. And everything was sort of sudden, but you still had to get through everything, and still get through with the children, and be there for them for every activity. And I don't have any siblings. So I didn't have anyone to put in my place. So it was just me doing everything.
I was blessed to be able to have home care for my husband, to assist me; which was much later. It was closer to the time of his death, rather than at the beginning. And after I found out that he was eligible for more help, that really was a blessing for me. But my job was very considerate. They allowed me to have a fulltime position with part-time work because of my circumstances, which was a blessing. So, we did get through it.
After everything was over with, after the funeral was over with, then I could continue the adoption process for Lenae; we had to put it on the backburner because he was unable to go in to court. And because of the nature of the situation: me being basically a step-grandparent as opposed to a natural grandparent, there were a lot of legalities that we had to deal with. So we needed him. But everything kind of reversed after he died. And I became the legal guardian, then I could go ahead and proceed, without my husband, with the adoption. So we got everything completed at that particular time.
JS: Now were you a part of Saint Paul's then?
LH: Yes.
JS: Now, I know you're very involved with your church. Talk to us about your church involvement.
LH: Okay. My church, I've been in Saint Paul's since 1974. Well, that's when I became a member in 1974. When I first got there, of course many years ago, I was a part of the music ministry at the church. I didn't participate in a leadership role, I was a participant in the choir. Later I became a choir director in the church. I maintained that position for several years, for about 16 or 17 years. I was a Sunday school teacher. And also, I assisted my church with some of the youth programs, only during prayer meetings, not anything of any significance other than that, until later in life.
Then we had what we called "The Retreat"; a unity retreat. And I was instrumental in having to coordinate the retreat program; it was only for a weekend, but we did the retreat up at Laurelville at the Mennonite camp. But I was asked to help coordinate that each year that we had it, which I did.
Other than that, I began teaching the disciple ministry also. I developed it. As a matter of fact, I was asked to develop one, which I did. And I began teaching that, and when I did that, even now, I still continue to do it. I have been since licensed as a minister at the church, since I attended CUBM. And I do assist our pastor in the pulpit every Sunday. And that's pretty much what I do, and I also go into the outreach ministries. We go to Shuman Center and the Veterans Hopsitals, and that part particular ministry I do head up. I do head that up, yes.
JS: Now were your parents churchgoers? Were you raised a Christian?
LH: I was a raised a Christian. My mother was single; my father died when I was a baby. And I was raised in the church. My grandmother, my father's mother, in particular, because she lived here in Pittsburgh. She was very instrumental in my Christian upbringing. But back then, you didn't have to enjoy going to church, you went to church because you were told to go. So you were brought up in church whether you liked it or not. So as a child, I was brought up in the church, I was in Sunday school, we were in the youth program, I took music lessons at church, I was in the choir at church, so I was brought up in that environment all my life. So, being a Christian as a child, is one thing, because you're told to do what you do. Once you really come into a relationship with Christ, it's different. Now you do it because you love the Lord.
JS: Yeah, you get to do it. Not that you have to do it.
LH: Right. Exactly. So it's a whole different thing. Which is so much nicer. You have to grow to that point; you have to get to that point. It just doesn't automatically happen.
JS: Yeah, it doesn't happen by osmosis.
LH: Hardly.
JS: But being around the church doesn't hurt. To hear Christian messages and to see Christian people. Someone once said, if you keep walking by the riverbank, it's only a matter of time before you slip and fall in.
LH: That's exactly right. So you're brought up like that. And you bring your children up the way you were brought up. And we didn't deal with the bar type lifestyle and the party-going and all those kinds of things. So, my children were brought up in a Christian environment, and as a result of that, they're Christians, and they go to church as well.
JS: Which is outstanding.
LH: And that's a blessing.
JS: Now when you were a younger woman, did you ever think about college yourself? Because all of your children, that seems like it was just part and parcel with being a Howard: you went on to get some more education. Where were you at when you were their age?
LH: Well, listen, this is what happened to me. Even though I didn't come up in an environment of formally educated people, with the exception of my father's sister, who was a registered nurse, she graduated from the Harlem School of Nursing. She worked at the Montefiore Hospital, as well as the St. Margaret's Hospital, as a registered nurse, private duty. Well, I always wanted to do what she did. And, for some reason, I was never encouraged in that area. I never talked about college, because college just wasn't a discussion. But I did want to be a nurse, but as I said, that was never encouraged.
However, after I graduated from Peabody High School, I knew girls, they weren't my close friends, but I knew girls in school who had gone to college, or really were going to college. And I really wanted to go, not so much because we were friends, but because I thought it was the right thing to do. We didn't have money, my mother didn't have money to send me to college, and because she was not formally educated, she didn't encourage that either. But what she did do, she said to me, I want you to do something; how about if you go to a business school. I don't even know if my mother knew anything about a business school. At that point, my direction wasn't in that area, but I went because she wanted me to go. I didn't like where I was, I didn't like what I was doing, but I was just there, because she wanted me to be there; I thought it would please her. And I did not finish, but I did go to that business school. I left there and started working. And after that, it was all another whole story. And that's why I didn't end up going to school.
JS: But now, that's where CUBM comes into play. Talk to us about the decision to come back to school later in life.
LH: Okay. Because of my calling into ministry of teaching, I wanted to, and I have gone to several Bible conferences and seminars. And I was so inspired by what I had heard. I was inspired by the speaker and the speaker's presentation. And it was kind of like, I would like to be able to do something like that. So because of those kinds of things, and I'll tell you who was very instrumental in inspiring me in that field: T.D. Jakes. And I had an opportunity through Debbie Hayes, to go to Moody Bible School. She introduced that opportunity to me. We went to a prayer breakfast and they were taking registrations for Bible school there. That Saturday to the prayer breakfast, I signed up to take a couple of classes in Romans and Galatians, at the Moody Bible School. I did that for a year and I did complete the course. Then I ended up in the hospital for surgery in 2004 and I didn't go back, but I always wanted to go back. That was my desire. And I kept saying, "I've got to get back to Moody, because that's where I feel I need to be to learn what God wants me to do." Well, even upon that thought, one day I was in my living room shredding papers, and WTBN was on and CUBM had an announcement on about orientation and open house, or something of that sort. And I said, "Oh, what is CUBM." So I'm listening. And they talked about it, and gave the date, and I said well maybe I'll go to that, and I did, just out of the clear blue sky. I said, "Well let me go see what that's all about." They did announce that they were going to start the fall term in 2007, and they welcomed people to come in and talk with the director, and see what the school is all about. And that's when I went to CUBM on that Monday. I called first of all to make an appointment to come and let them know I was coming. Went in on that Monday, when I left that day, that it was where God wanted me to be.
JS: What was the decision like going back to school, knowing you were going to be in an academic environment being a little later in life?
LH: It was frightening. I was very apprehensive about my ability to be able to accomplish this at such a late date in my life, at late time in my life. Because now this was real college, and that's how I looked at it. This is real school, this is real college. It's not like taking a couple of classes or going to a seminar. Really, I was enlightened to some degree, over the fact that, whew, I can finally go to college. And then I became excited about it. I didn't tell my kids right away. And then finally I said, let me call them and talk to them about it. And I was not looking for their approval, I was only looking to tell them what my decision was. Well they were just thrilled. And they said, "Well mom, you should go. Go for it. This is what you want to do. You'll love it. And you'll do good." And they just started encouraging me. "Listen, every time you needed a letter written, you wrote our letters for us." So I said, "Well that's different. This is real school. I have to go back and study and really dig in and try to comprehend what I am doing. And hopefully I will be able to do that. But I am so willing to try to do that." So they said, "Do it."
JS: Now let me ask you a personal question. You don't have to answer, but how old were you when you came back to school?
LH: I must have been 66.
JS: How old were you when you graduated in 2011?
LH: When I graduated, I was 71.
JS: So 66, when you came back to school. Wow. And so now, you throw yourself back into school, you're apprehensive, but you're excited. What was it like once you got into it.
LH: Well, once I got into it, I felt comfortable, and that first of all, I was in the right place. Because, I'm going to tell you what made me think that. It's because I had such a desire to please the Lord with what He had called me to do. And I knew that I needed to trust Him to get it done. So once I got into the environment, and sort of settled in and really registered and got my books and realized that I was in a place that God wants me to be, and I'm okay with it.
JS: And so then things just started to flow.
LH: Things just started to flow.
JS: But they flowed very well, because you were an outstanding student. So what was it like now, you're writing papers, and doing exams, and you're doing good. What did it do for your self-esteem? What did it do for your relationship with the Lord?
LH: First of all, let's start with the relationship with the Lord. Because that's first and foremost. I drew closer to the Lord. I understood what He wanted of me. And I knew that I was doing something that He would take later, if not sooner, and develop it into something greater. But I could only accomplish that if I put my trust in Him and go for it. So I wrestled with that. And then once I got into it, then I was okay. My self-esteem began to become elevated. Not overwhelmingly so, because again, I never entered into school thinking that I was all that. I was not always terribly apprehensive, but being careful that I did the things that were right. I wasn't trying to put myself in a position where I thought of myself more highly than I ought. I wanted to remain humble. I wanted to remain open to God's purpose. And I wanted to hear what He had to say to me through His word, through my professors, through my textbooks, and also through my classmates.
JS: What difference did the training and school make in your ministry.
LH: Wow! That's a great question. It gave me confidence, more confidence than I needed and it was much more confidence than what I had. It took time to develop that confidence. So much so that I didn't want to step up to the plate and say that I had it. But I did gain confidence in what I was doing. I gained confidence in my presentations and being able to talk with people. Also the fact that I began to understand people so much better. Not necessarily that I didn't try to understand people. But I realized that we're all loved by God, regardless of where we are. And if we don't focus on who we are in Christ, we can miss the boat. And the fact who others are in Christ as well. It's not just about me, it's about someone else as well. So I did gain my confidence. I was able to move through school much easier than I would have had I not had any confidence.
JS: Well I had you for three or four courses, as an instructor. What an outstanding student you were and are; a great writer and just a great citizen of the class. Always responsible and every assignment done to the best of your ability and a timely manner. Talk to us about your graduation. That was a pretty special day. I think you were going to some difficult times. But talk to us about what it was like to finish and tell us too about the awards you received.
LH: Okay. The day of graduation, it was a very trying day for me. It was exciting in that I had finally finished and was going to be receiving my associate's degree. And that particular day, I was coming back to school after having a very serious operation. And I didn't really think I'd be able to make it. As a matter of fact, the children did ask me if I felt like walking down the aisle. And I said, "Yes. I do." And, "Yes, I will." And so we got ready to come, and when I got there, I felt weak, but I felt strong. My spirit was strong. Physically I was weak, and I knew that.
JS: And you had lost some weight.
LH: I had lost a lot of weight. Because I had been in Intensive Care for over a week. And had not gained my strength back. I knew that I wanted to do this. You know what, it's just something about me: I didn't just want to receive my degree in the mail. I wanted to walk down that aisle; I really did. So that was a very exciting time for me. Very precious memories. The awards I received, I really was so shocked, had no idea, had no expectation of anything other than walking away from there that day with my associates, and that was it. I did not know that I was going to be awarded anything other than that. Well, that was just wow. That was a wow. It was.
JS: And what were your awards?
LH: My one award was for "Best Writer."
JS: Oh yes. You're an outstanding writer; so clear and concise. I learned stuff when I read your papers.
LH: Did you really?
JS: Oh yeah. They were very good.
LH: That was nice, thank you. And then the other one; I had the highest grade point average.
JS: Yeah, I think it was 3.75 or something?
LH: Yes.
JS: But I remember you were a little weak. You stayed in the front pew. And we walked the awards down to you?
LH: No, I did come up. I had Artice behind me. She was kind of holding on to my robe a little bit. But the sad part about it, I did not take a good picture that day. That was such a sick picture.
JS: Yeah, you were not yourself that day. It wasn't quite the Lee we had come to know and love.
LH: No, I tell you. But God is so good. I thank God that I was able to get up. Let me tell you a short story, if you have time to listen to it. Before I went to surgery, I knew what I was going to be undergoing, in terms of recovery. I didn't know how long it would take, but I knew it was going to be a long journey in terms of comeback. So I had Dr. Edwards as my church history teacher. He was very difficult, for me. It was a struggle for me. I wasn't getting it. And I think a lot of me not getting it was the fact that I wasn't feeling good.
But anyway, before I went to the hospital, I went to the library out here in Monroeville. And I got some books that would help with my research with his paper. But I was still unable after I came home from the hospital to do any typing, because my incisions were too painful to sit at the computer. So, I kept praying, "Lord, I've got to get up out of here and sit at that desk and do some typing. I've got to get this." That was my prayer. So finally, Helen Jackson called me one day, to see how I was doing. And I said, "Helen, I'm doing better, but I'm not where I need to be." And she asked what the problem was and I told her. She said, "We're going to pray for you right now." Helen prayed a prayer for me, and I could feel the power of that prayer, and the intensity of that prayer, that raised me up off of this bed. And when I hung up from her, I was so inspired to get up and get to that computer. I put a pillow over my incisions, I leaned over that computer for however long it took. And I believe the paper was 15 pages, and I typed that paper, and I got an A. I tell you, that was something.
JS: I thought you were going to tell me that Helen said she'd come out and type your paper for you.
LH: No, no!
JS: And of course, Helen is a CUBM grad. She just graduated with her MSOL. She's a delightful lady. So you did what you had to do and God empowered you.
LH: Yeah, He did. And then I was still able to get up and get dressed and come to the ceremony that day. I was so busy talking to people, I really forgot I was sick.
JS: Yeah, that was a high time; that whole class.
LH: It was a high time.
JS: It was really very special.
LH: Yeah!
JS: Now you're still in school, aren't you?
LH: Yeah. I'm in DCP.
JS: Which is Degree Completion Program.
LH: Yes, Dr. Watt is my primary professor. I'm doing well there; I'm on the Dean's List. And we're ended up our third module now. So I have some assignments that will be due in the next couple of weeks that will be coming up. So I have to get those done.
JS: Now somebody reading or listening says, "Okay, Lee, you're in your 70s. Why complete your degree at this point?" What do you tell them?
LH: Well I've had people say almost those very words. And, "What's your purpose and why are you doing this? You don't really need a degree to do what you've been doing." And I said, "No you really don't, but yes you really do." And the reason for that is not so much the paper itself, it's what it takes to get the paper. It's hard work, the tenacity of that, the purpose of what it presents, and what it's there for. And all of the studies that you do are so relevant to what you do, yes it is. I need school.
JS: Yeah. And the school needs you. You add a lot to any situation that you're in; family, church, or school. Now, in one of the classes we had, and I can't remember which one, you told me a story about your political involvement where you've lived, and I've never forgotten that story. And as we wrap up and as we close, just tell our listeners and readers about that story and how you got involved in that sort of thing.
LH: Okay. It was in 1992. After the kids, well my son and daughter had both graduated from college. And, I had been asked if I would be willing to run for councilwoman in the Garden City area where I lived. First of all, I was asked by the outgoing councilperson if I would be willing to run, because he knew me very well. And I had helped so often with his campaign. And the first thing I told him was no, I don't think so. Because the kids were coming out of school, and there were things that I needed to do other than that. But then, I spoke to a couple of other friends, mentioning what he had said, and they sort of encouraged me.
Well, I went back to him and I changed my mind, and said, "I think that's what I'm going to do." And he said, "Well you can't do it now." I asked why. "Because I was going to support you, but now since you told me no, I have another candidate that I'm supporting, so I won't be able to support you. And if I don't support you, you won't win." I said, "Oh. Okay. Then I'll tell you what I'm going to do: I'm going to run without your support." And I did that. There were four candidates. There were two men and two women and I was the only African American. And the first African American that ran for councilwoman in this district, period. Of Monroeville, and in Garden City as well. So, I got my campaign people together and we began to go on the campaign march, which was very fruitful in my mindset. Now, I did not win, but I came in second place. And because I ran, I told them, I was a winner, because I ran. I chose to run. I chose to do something that no one else believe I could do. I chose to do something that was necessary to do.
JS: I just love that story. And that is so indicative of you. That is so much of what I have come to know about you. And we are just so delighted to have you in the Urban Heroes program and as a CUBM graduate. It makes it all the more special. As we wrap up, any words of wisdom for anyone listening in who's thinking, I don't know if I can do what she's done. Or I don't know if I can face up to my situation as she has. What do you tell them?
LH: Well first of all, I tell them, believe in yourself. Trust in God and believe in yourself. And always do what your heart tells you to do. And I would say this too, Dr. Stanko: one of the scriptures, of course I have so many favorite scriptures. But one I certainly have adhered to over the past years is Psalms 37:25. "I have been young, and now I am old, yet I've not seen the righteous forsaken. Nor His children begging for bread." And God is so true to His word. So just believe in God and believe in yourself and know that you can do these things, because Christ will give you the lead, and the guidance, and the strength to do it.



U R B A N H E R O E S