Update Required
To play the media you will need to either update your browser to a recent version or update your
Flash plugin
.
Click to listen to the Audio interview << Heroes >>
---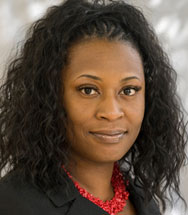 Shaunda Miles
Shaunda has adopted Pittsburgh as her own, and we are glad she did. A native New Yorker, she first came to work at the August Wilson Center, but her vision and dreams go beyond working for someone. She has formed her own theater company and one days hopes to do more writing and directing. So watch the theater world in our area and look out for the name Shaunda Miles, an up-and-coming Pittsburgh Urban Hero.
JS: Today I want to welcome Miss Shaunda Miles. Shaunda, welcome to Urban Heroes.
SM: Thank you so much. Thank you for the honor.
JS: As we get started tell us a little bit about Shaunda.
SM: Well, I would just say that I love God, and really just try to keep Him in my life. I love the arts, and He has definitely planted a seed within me, and a passion for arts, and arts administration. I grew up on Long Island, and was raised by my mom in a really strong family. I went off to college, and got involved even more deeply with the arts and went to graduate school for it, and I've traveled, really being able to do what I love. So, I'm really grateful to God for that.
JS: Where on Long Island were you born? And tell us about your family.
SM: I was born in Mineola. I was raised in Nassau County and then moved to Westbury, probably around the age of 10.
My family is very strong. My aunt lived across from us in the housing community that we lived in. So, my cousin lived right there. My great-grandmother, we could walk to her house up on the hill. And my great-grandmother and great-grandfather were deacon and deaconess in the church that we grew up in. Grew up in a very small community. Everyone knew me.
JS: Tell me about your church.
SM: I went to a Baptist Church. It was just what we did. Every Sunday we would go, and more than just Sunday, oftentimes. I participated in the choir, the usher board, traveling to other churches, performing, you know, just getting the Word, understanding the importance of the church in my life.
And then, when I got a little bit older, I felt like I needed something else in my life. I needed a little bit more teaching, and so I ended up going to, at the time it was Christian Life Center, in Brooklyn, Pastor A. R. Bernard. And so I really grew exponentially, in terms of taking spiritual classes, foundational classes that really helped me to understand my relationship with Christ through that ministry.
I went to a Quaker high school: Friends Academy. So we had to worship weekly in silence. And that was a wonderful experience just growing up and learning how to meditate, as part of my schooling. And so, it's definitely been an interesting journey for me in terms of my church background and foundation.
JS: Now, you go to a Quaker high school. Where do you go from there? You're the first Urban Hero, I can tell you right now, that's ever gone to a Quaker high school. So when you graduated, where did you go and what did you do?
SM: Well, I remember our head mistress, she was amazing and would sit down with each of us individually and kind of give us schools that she felt were good for us and where we would succeed. You have to understand the whole thing was a whirlwind for me because I was actually about to be put into special education as a young child in seventh grade. And my great-grandmother's doctor was adamant about not letting me get into the system that way; check out Friends Academy. So my mom took me to Friends, I tested, I was able to get in, get scholarship money, and still my mother had to struggle and pay and take out loans. But she made it happen. And, so from high school, which was just really a respite for me, I felt like it was a place of peace. The assistant head mistress suggested some schools. And for me, I just wanted to go someplace serene. So when she suggested places like Middlebury and Dartmouth and some other places, I was like, well let me go visit.
And so I went on college tours, and ended up choosing Dartmouth. And so I ended up at Dartmouth, and was just really grateful. Like I said, at home, I had a family member who was addicted to drugs, who was staying with us on and off. So I never really, sometimes my mom and I had to get up in the middle of the night and grab our clothes; we couldn't even stay at home at night, we could only go there during the day. So for me, college was a place where I would have a bed. It wasn't even me thinking of Dartmouth being a prestigious place. It was just a place I could go and study and have peace. So when I got there and understood what it was, of course I felt tremendously blessed. So I ended up in New Hampshire.
JS: Were there many black folk there? Many people of color?
SM: Well…there was a nice population of African Americans. Dartmouth has done a great job of increasing diversity on its campus, but one of the reasons I chose it was because of the schools I was looking at, and of the Ivy in particular, they had the best ratio of African Americans to the general population. So even though it was a small campus and a small number of black people, I could still pledge a sorority if I wanted, a historically black sorority. There were things I could still do and have options to do in the midst of that environment. It was a great place. I loved Dartmouth.
JS: So, off to New Hampshire. Alright! Lots of snow. Was it really cold?
SM: Oh, it was terrible. I mean, I didn't understand at first. My nose would be hurting and I finally found out that it was because it was freezing; that the moisture in my nose was freezing as I was walking to class! Once I got to understand the environment, it was fine. But I guess it prepared me for Pittsburgh a little bit. But yeah, I definitely loved the environment. And it was there that my love for the arts took off. All my friends were studying government and history and becoming doctors and lawyers and they were asking, "Shaunda, what are you doing? You're studying art? What is that? Why did you come here to do that?" And I didn't know really why until a summit for black theater was held on the campus and August Wilson came.
JS: Really?! August Wilson came to Dartmouth!
SM: Yeah! And he was in residence during my tenure. And so I started off as an actress and I acted in his "Joe Turner's Come and Gone" as a main stage Dartmouth production. But I also did some dramaturgy work and I also took his playwriting class. And, from then on, it was like this is what I'm supposed to be doing.
JS: Wow. So what did you end up majoring in?
SM: I majored in African and African American studies, and I minored in theater.
JS: And did you do acting, or was it more from directing? Or what were you looking at?
SM: I primarily began as an actress. But what happened during my tenure there was that, one, the black underground theater was handed down to me from the upper classmen. So I was doing productions through that organization. But I also was involved in the mainstream theatre on campus, and really wanted to get starring roles. But of course, the notion of cross-casting, and maybe I just wasn't good enough, I don't know. For me, I just felt like there were roles I just wasn't going to get because of the work that was being done. If you're doing Oscar Wilde…so I'm always the conjurer or the nurse. And for me, it was like, when can I be Juliet? And the only way to be Juliet was to have my own theatre company or to do work that really told the story of African American people. So then I said, oh, that's a producer. I guess I need to be that.
JS: So you're figuring this out logically working your way through.
SM: Exactly.
JS: So you graduate Dartmouth. Talk to us what happens after that.
SM: I graduate Dartmouth and I get an award, like the Lorraine Hansberry Playwriting Award, which gave me a little bit of funding for work that would be done after college. And a professor called me, Professor Walker who's one of the teachers on campus, and he said, "You know, Shaunda, the Goodman Theater in Chicago has this internship program, but it starts in a week and a half or two weeks. You have to do the interview, you have to go through the processes and it's all going to happen really quickly. But, call this man at the Goodman Theater." And so, I called Tom Creamer, and he ended up accepting me as a dramaturgy intern, and off I was, found a roommate online, packed my mom's Jeep and drove to Chicago.
JS: You just like cold windy cities and areas, don't you?
SM: I know! I'm a glutton for punishment! So that's where I ended up. And I think just all my life, I've just said, okay, I remember writing a poem in the class with August Wilson, and it said, "If you must have many, here am I, send me." And I think my thing has always been, okay God, I'll go. And so, when those opportunities come, even if I'm fearful, I still try to step up. And there was one book that inspired me, by Joyce Meyers said: Do it Afraid!
And so, Chicago was awesome. I was able not only to work at the Goodman, but at the YMCA where they had done the premier production of Amistad for stage with Ifa Bayeza. And then I was also there at the time when Congo Square Theatre Company was performing. So I was really able to see, from the ground up, some amazing work that they were doing. A friend of mine who worked at the Goodman was also working as their business manager.
God just allowed me to really meet some of the people who are really still doing great things in the arts. Some of my friends who were in Chicago are in television shows, and their companies, like Congo Square, are recognized regional theaters. You know, just grew, and then decided I really needed to go back to school to learn how to be a producer, I thought. But I wasn't quite sure, so I applied to Yale, I went back home to New York, and I started doing a directing fellowship at Second Stage Theater in Manhattan at the same time, which was amazing. I got to work with Garry Heinz, the first woman to win a Tony for directing a play, for Crimes of the Heart. And, I just applied to graduate school and got in.
JS: Where?
SM: I was off to the Yale School of Drama, for theater management.
JS: You just love the Ivy League, don't you? But you're still going to cold weather. We've got to get you to Florida. You know there are schools in the south, you know that don't you?
SM: I know!
JS: So how long were you in Chicago?
SM: I was there for about six to eight months.
JS: Oh is that all?
SM: Yeah, it was just an internship and it just wasn't working for me to live there financially. So the internship was just a small stipend, and I really hadn't worked out – that was really my first lesson, now that I think about it, about you can logically plan everything and decide, you can plan, but God kind of will say…
JS: Man's mind plans his way, but the Lord directs his steps.
SM: Exactly.
JS: Alright, so you're now back home. And I'm sorry, again, graduate school was where? Oh Yale, that's right. So were you commuting to New Haven or did you live up there?
SM: I wasn't commuting there, I was living there. Actually right across the street from the Divinity School, which is where I took all of my electives.
JS: Really?
SM: So I was living there. I was on the weekends commuting to go back home to go to church. But for the most part I was in New Haven living there.
JS: And what program are you in? What are you studying?
SM: So there I'm studying theater administration. There were six people in my class, that were theater masters, and then they took 16 actors, 4 directors, 4 playwrights, and you kind of work in a collaborative way at the school, and also through the Yale Repertory Theater, doing administrative work there. So that's what I was doing. And ironically, Benjamin Mordecai was my dean of students, who was there and helped to produce much of August Wilson's work, and was there during the first kind of transition of his plays from Yale to Broadway, and so on and so forth.
JS: And so it's a two year program? Or, how long was it?
SM: It was three years.
JS: Three years, wow. And did you have financial help? Did they help you? Or, was God helping you?
SM: Um. Definitely God was helping me! I did get some awards, some scholarships, and again, just loans, really. I mean, Sallie Mae and I are really good friends. That kind of is what I had to do.
JS: So three years. Let me go back. You said you took your electives in the divinity school. Why did you feel like you wanted to do that?
SM: I've never really just been a proponent of just art for art's sake. I have always felt that there should be some sort of purpose for it. And I think unfortunately, in my life, I have always experienced that there have been these divergent paths with art and faith in the world. Even though some of the most redemptive and great stories that you see may be secular stories. Either the church is not really willing to accept that, or the world is not willing to accept the art. And on rare occasions, you see these blockbusters that cross those lines.
But for me, I've always lived with that tension. So for me, if I'm going to be inundated with theory and philosophy and practice of art, I need to really…it's a trade school. So you're learning the trade of budgeting and managing your law in the arts. And so for me, I needed to have that other philosophical and spiritual nourishment that I was able to really get from the classes I took there.
JS: Were you? Because I know that Yale can be another divinity school; divinity schools can be pretty liberal. But you found it a meaningful experience for you?
SM: Yeah. I mean I think that no matter what, God is everywhere. And I think that He will reveal Himself to you if you are seeking Him. And so for me, I found a closeknit group of people there. And there were challenges and contradictions, and all that different stuff that you find. God really planted some people there who really were a blessing in my life and were of likeminded spirit.
JS: So when did you graduate? What year?
SM: I believe that was 2004.
JS: 2004! Okay! So now what happens? You finished Yale? What's the next step in this exciting journey?
SM: Well I finished Yale… Gosh, it seems so long ago. So part of our program there, we had to do residencies in our third year. So you have to actually go work in a theater. And so, I met Bill Rauch from Cornerstone Theater in L.A., during my time there, because I was responsible for bringing in speakers to speak for a third-year class. So I met them and really respected the work that Cornerstone was doing in L.A., and if I was going to work in theater, there was no other theater I could think in my mind that I wanted to work at, just because they were doing such community-based work. And so, did my residency, and almost didn't go back to Yale to graduate, because I loved it so much. But my advisers were [adamant] that I should come back and finish. And so, I went back, but then the company hired me after Yale. So I lived in California after graduate school.
JS: Finally! Some warm weather! Thank you Jesus!
SM: Yeah! So, I lived in California from 2004 to around 2007 or 2008. And, ended up staying with that company for a short period of time actually, and went into seminary.
JS: You are just full of surprises.
SM: I know! It's a bit, it's like sometimes, I'm like, okay God… Which is why I like Pittsburgh, because I feel like I'm in a planting phase now, where I can just plant and God has me still, which is fabulous. Yeah, so I ended up in L.A. Was only at Cornerstone for maybe five months and just really felt the call to go into seminary. So, went to Fuller [Theological Seminary] for a little while.
JS: And what did you graduate with?
SM: I was in the Master of Divinity program, and I still have not completed that. I am actually, I don't know, I think it was one of those moments when I think I was so fully in the arts and the art world that I felt like I was missing some aspect of spirituality for myself. And so, what I have seen throughout my life, is this kind of tension, continuing to play itself out, where I love art, but sometimes I feel like you have to make a choice. And you really shouldn't have to. So, in order to not have to, you kind of have to start your own company, which is what I ultimately did.
JS: And so, you felt like you were able to navigate this tension between the arts and spirituality or theology?
SM: Yeah, I think so. And primarily by saying to myself, that I'm okay. Meaning that all that God gave me is okay. And no one can define for me what worship is, the way that He wants me to worship, or what that looks like. Because, it's as unique as I am in Him. So, I think sometimes growing up for me, it's just been hard to find acceptance. So then we kind of walk around schizophrenic sometimes as Christians, I'm going to compartmentalize this part of me is here, and it does this. This part worships God, and then this part over here is an artist is over here, and it's kind of weird, and it doesn't really fit over there. So, just having to navigate that, and I think I've come to a place where I'm at peace with it.
JS: Good, good. So were you working in arts while you were at seminary?
SM: I was, but in a different capacity. One, I was writing a play. I was trying to hire all these people to write a play. I had an LLC and I was in a partnership. I actually wrote my own Gospel musical. And I was also assisting a prominent actor who works in Hollywood. So, I was doing more administrative work in the arts. And also started, during that whole time, working at a management company called Relevé Entertainment. I managed Gospel artists, so I was kind of doing arts administration, artists management, and also producing my own play through the company that I was starting.
JS: And what was the name of the play?
SM: That was "Who Do You Love?" It was a Gospel musical based upon the story of Esther.
JS: And was that a positive experience?
SM: Oh, it was amazing. Almost frighteningly so. I was a little young, I think, to handle the responsibility. And we really jumped out full force at the time. At the time, one of the prominent Gospel artists ended up in the lead. And we produced it at the Wilshire Theater in Beverly Hills. And it was huge. We were on the radio. We had sponsorships. I was also working at the Pasadena Playhouse, in California. So they helped to build my set. And it was just amazing support. And I probably don't think that I took control like I should have. I was young, and I felt like, okay God, I'm not ready to do this. But He was putting me there. And so, it was a great, great learning experience for me.
JS: Okay, so I've got to jump to the chase here. How did you end up in Pittsburgh?
SM: Actually, that was from a mentor at the time, Myshae Wafer. I had moved back to New York after L.A., and was thinking I just needed to focus. I'm doing a lot of stuff; what am I supposed to be doing? And so it was a time where I was working, really, in wealth management, at Bank of America/US Trust. I was terribly miserable. Not because it wasn't a great company, but because I just wasn't doing anything relative to the arts. And so, Shae called me, and she was working as the vice president of programming at the August Wilson Center, and said, "You know, I need someone to come here who knows that Samuel French is not a real person. And knows how to get rights for plays, and knows art management." I said, "Okay!" I was ready to pack up and move. So she ended up calling me back and saying she hired someone from Pittsburgh, and that person quit. And two days later I was on Amtrak and was moving to Pittsburgh.
JS: What year are we at now?
SM: Haha! Now we're at 2010.
JS: So you go to work for the August Wilson Center.
SM: Yes. As program manager.
JS: Is that what you're doing now?
SM: No. They actually restructured in June of last year (2012) and so I was out of a job completely, again facing this period of like, okay God, here I am. I was ready to plant. I thought, I'm going to retire at the August Wilson Center. And, there was just unforeseen circumstances. Once again, I had my plans, but God, His plan prevailed. And just ended up out of work and in Pittsburgh, and not really sure what I was going to do next. And worked on some individual projects. And really [in a few days from now], I'll be starting at the Pittsburgh Cultural Trust as their director of public relations.
JS: Oh, nice. So you know Maggie Johnson. Do you know Maggie?
SM: I don't know her. I guess I will get to know her.
JS: Well, she used to work there. And she's now on her own. She has Jazzspace. She goes to our church, so I've worked with her. And she's part of my Divine Design Team. Well, Shaunda, you have a fascinating connection with the arts, and theology. I'll call it theology; spirituality, whatever we want to substitute. And now God has you in Pittsburgh, you've been in Chicago, you've been in New York, you've also been to some of the hinterlands: Dartmouth and I guess New Haven is kind of a bedroom community for New York. But what are you seeing as the future of your work here in the city. What's your take? What's your philosophy or your theology of your work in an urban setting?
SM: What pops into my mind when you say that is real simple. And that's Isaiah 58. I just want to do work that helps people to overcome, in whatever way. Right now, I plan to continue with Demaskus; that's the theater company we have; spelled like…de-mask-us.
JS: Ahhhh! De-mask us!
SM: There are about 12 artists in the city. And we've done a play, and are working and doing some other things. We just did a partnership with the Carnegie Library for Black History Month and did a reading series. So I plan to do that. I plan to serve at the Pittsburgh Cultural Trust, which I think, in my role there, it's amazing; it will enable me to thrive as an artist, and as an administrator. I'll continue to learn the business and grow in my career.
And I plan to help run projects. We just partnered, Demaskus just worked with Baptist Temple Church, you were there, at the live nativity in Homewood. And so those kind of opportunities are really important for me as well, to help ministries do the work that they want to do in the arts more efficiently, and on a different level.
And I am also working part time as the executive assistant to Pastor Edmonds at Macedonia Church; he's a new pastor, I believe in what he's doing and I'm just assisting in any way that I can with that vision. And so, at the end of the day, with anything that God gives me, any gift administratively or in the arts, I just want to do good work that will help to set people free and overcome.
JS: Nice. And that's your church, Macedonia?
SM: Actually, it's not! I actually attend Mt. Ararat. I am a member of Mt. Ararat. Pastor Curtis is my pastor. But, God opened up a door with Pastor Edmonds at Macedonia, and the churches have a long history of supporting one another. But, I love it, because I think when you talk about my theology is that we are a body. And the sooner we understand that, the denominational things, and all the different things that keep us separated, our hindrance to the kingdom of God, then we can really grow. It is absolutely fitting that I'm a member of Mt. Ararat, but the executive assistant to the pastor at Macedonia. It is just symbolic of my life journey.
JS: Well, Shaunda, we are delighted in Pittsburgh that we won the Shaunda Miles sweepstakes. We're up against some stiff competition: New York, Chicago, L.A. But we win, and we truly have won. Thank you for what you're doing in the city. We look forward to a long and fruitful role and position here in our community. And we're really delighted to honor you as an Urban Hero. Any final words for our listeners [and readers]? Anybody who's starting out like you did a few years ago and looking to make a way in their purpose and calling? Any final words for them?
SM: I guess my final words would be, to be courageous, and take risks, and don't allow other people's limitations to determine your own ability to accomplish things. To step outside of the box, and help people to redefine. Don't feel like you have to be defined by the status quo.
JS: And I think you're really saying: don't let fear of what others say impact you or limit you. And you've certainly been an example of that. You've been from coast to coast. If God wants you at Dartmouth, you go there. If he wants you in L.A., you go there. And I think, if our listeners would embrace that same spirit and not be afraid, there's no telling what God can do. And I just say to you, the best is yet to come for you. You're only in the beginning.



U R B A N H E R O E S