Audio interview home heroes << >>
---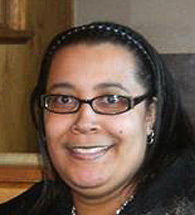 Arnisha Keyes
John Stanko: Hello, this is Dr. John Stanko once again with the Urban Heroes program. And the purpose of the Urban Heroes program is to identify people in our local community who are doing work that is worthy of honor but because they are doing work behind the scenes or because they don't get a lot of publicity, the honor may escape them. So, we want to provide their stories for people to read and know about them and also to be inspired by what they are doing. And today we have another one of our alumnae with us. I'd like to welcome Arnisha Keyes. Hi, Arnisha how are you?
Arnisha Keyes: I'm lovely. How are you?
JS: You were just telling me about an exciting thing that happened in your life last November.
AK: Yes.
JS: Tell us about that.
AK: Well, I was blessed to be able to purchase a home in West Mifflin.
JS: Great.
AK: So, I've been living there.
JS: When I called earlier, there were a couple of organizations that you mentioned on your voicemail. Tell us about what you're doing, what organizations you founded and how you're spending your time these days.
AK: Well, I recently left my executive assistant position at Youth Places to further go into my independent consulting, which is Keyes for Holistic Living. There I have training or workshops for young people on different topics such as self-esteem, reproductive health education, job-readiness, career-readiness, as well as college exploration and different things like. [My goal is] that they would become more successful in their future and have a brighter outlook for what they want to do.
JS: When did you start Keyes for Holistic Living?
AK: Everything started coming together at the end of 2007. I've done 3 workshops since then with Voices Against Violence, which is in the Beltzhoover area at Carrick High School and with Providence Connections over on the North Side with their male mentoring group and female mentoring group.
JS: Congratulations. How have those initial seminars been received?
AK: Very well, actually. The young people that I've been working with have received me very well. They are very positive and I got a lot of good feedback from them. I tried to get their quotes about the sessions that we've had together and put them on the website so that anyone that goes to the website can see the quotes about what the young people have actually gone through—what they said, because it's all about them. And as long as they get the information that I'm giving them and it's something that they can use, then I feel that I'm doing what it is that I need to do.
JS: What is the website if somebody wants to check it out?
AK: It is www.keyesforholisticliving.org
JS: So, talk to me, Arnisha. This is not the best economic situation to be launching out. But how are things going for you and what made this the right time for you to take the step you've taken when it comes to the work you've mentioned?
AK: Well, for maybe a year now, a lot of the work that I have been doing has been in the office. It's been administrative. [Administrative] support is something that's natural to me, something that I've done all throughout my high school career. Those are the types of classes I took – clerical and secretarial-type classes. But administration just wasn't fulfilling and I felt that with the options that were given to me at Youth Places, it was just that push that I needed [to step out and start my own].
I believe that it was God working all through it. And I just trust him that through the whole situation he's going to sustain me and keep me. And he's brought a lot of relationships or brought me through a lot of relationships with different organizations and with different people who know me. They know what I'm capable of doing. And God will make room for the gift that he's given me. And young people are my passion, so it wasn't enough for me to just be in the office and not actually have any hands-on work with them.
And then also being able to go back to my own community [was important]. I've been working in Pittsburgh and the area of Pittsburgh for a long time. And I'm from Homestead. I really felt the need to go back to my own community, where I was born and raised. [I wanted to] be able to bring a lot of what I learned out from Pittsburgh youth programming and bring it to them because they don't really have an up-and-running, consistent program, which is where my legacy comes in. And that's the out-ofschool program I'm looking to develop and I'm working on right now.
JS: You sound very upbeat, very positive. So, you're very excited with all these new changes?
AK: Yes, I am. I'm very excited because this is what I want to do. It's what I love to do. It's just a natural thing, a natural progression. And I get the most satisfaction and gratification out of that. So, I want to be able to love what I do and do what I love.
JS: Now, was Keyes for Holistic Living the only organization mentioned on your answering machine or was there another one? I thought there were two.
AK: It was Keyes for Holistic Living and then My LEGACY, which is a youth program. I always believed that if the young people had ownership in what they're participating in, then they'll stay and they'll utilize the services and that they'll take an active part in it. So, LEGACY stands for Leadership, Education, Guidance, Achievement, Community and Yielding. The young people are saying, "I'm doing this. It's my education. It's my commitment to my community and what I get out of it is what I put into it." So, there's that difference of "It's mine and not just somewhere I go just because I don't have anything else to do." But I'm actually a part of this and I'm going to help it grow and develop.
JS: So, if somebody listening or reading wants to find out more about My LEGACY, they can go on your website. Talk a little bit about the Center for Urban Biblical Ministry who is sponsoring this program. Talk a little bit about the experience with that organization.
AK: I had a wonderful experience at the Center for Urban Biblical Ministry, affectionately know as CUBM. And I met a lot of people. Karla Byrd was always very welcoming, encouraging, and helpful. And the whole staff was just always willing to help and assist wherever they could. The classes, the teachers and the professors I had, were wonderful, very knowledgeable and also very helpful and wanted you to get the information. So, one of the reasons why I wanted to go to CUBM – because before I started going there, I had just received my call and had been in ministry for a only little while.
So, I wanted to get some more theological and spiritual education. And some of the places that I was going to, I was spending the money but didn't have anything tangible. I also wanted to work on getting an associates degree and go on to get my bachelors degree. So, for me, once I got the information [about CUBM], a few people actually told me about it and then I actually looked into it. It seemed like the most feasible and reasonable thing for me to do.
JS: How old were you when you went back to school?
AK: I just turned 38. So, maybe I was 35… 34 or 35.
JS: Was that scary to think about going back to school at your age?
AK: Actually, it wasn't scary. My big thing was I could have done this a long time ago and this could have been all out the way.
JS: Just decided to make up for lost time?
AK: Yes, it was just the right time, with me working during the day and being able to take the classes in the evening. And the class work wasn't overbearing where it took up my whole life. It was something that I was able to do.
JS: It was doable for you, manageable. So, you did graduate, correct?
AK: Yes sir. I did.
JS: Have you gone on for further education?
AK: Actually upon finishing my associated degree from CUBM, I was able to go to the [Geneva College] degree completion program. And even God worked that out because when I first went, the DCP programs that were offered, I don't know if they were necessarily where I wanted to go. The one that was closest [to my interests] was human resources. But right before I finished, they started the human services program at DCP, which was exactly up my alley and where I wanted to go.
JS: You finished that too?
AK: Yes. And I graduated.
JS: Congratulations.
AK: Thank you. Our class was finished in August when I actually finished in '08.
JS: Well, good for you. You've accomplished several of your goals and now you're in full-time ministry with your own organization. That's really outstanding. Congratulations. Now, tell us were you born in Western Pennsylvania?
AK: Yes, born and raised in Homestead. I've spent my whole life here.
JS: You mentioned you were going to church in Homestead too. Is that correct?
AK: Yes. I'm an associate minister. I'm now at Second Baptist Church in Homestead and Donald Turner is my pastor.
JS: What do you do as associate minister?
AK: I'm in the van ministry. I'm the superintendent for the Sunday school. I'm also a Sunday school teacher and I work with our youth church as well.
JS: Is Homestead changing?
AK: With the Waterfront, there have been a lot of things that have been changing. And they are tearing down a lot of the old houses. And they're rehabilitating and rebuilding the new homes for some lower income families so that they can have the opportunity to purchase a home. But even in those efforts, I still see that need and that attention that is needed to toward our young people.
Because even with all of the companies that have come in, in the Waterfront and all the jobs that were brought by the whole redevelopment of the Waterfront, somewhere our young people got lost. There was nothing available to them about job-readiness where they would have been able to get some of those jobs. So it's my hope and my goal to really try to get some of our local government and our businesses to invest in our young people.
Because once the adults that we have now are gone, it's those young people that we are leaving here to take on the things that we have here. So, they're going to need the education and they're going to need the support. They're going to need the mentoring and everything else. So, I really hope I can focus on them a little bit more. And actually try to get a recreation center for them.
JS: When did it become clear to you that youth was going to be your focus? Was it always there or was there some experience that inspired you? How did you become so clear with your emphasis on youth?
AK: I would say it became more clear to me what I wanted to do or what I believe in '96-'97 when I actually was involved in the AmeriCorps program and the Key Service Corp. During that time when I was serving with them, I was able to do tutoring and work within the high school with young people. So, I have been doing after-school programs, some kind of programming with youth, since then.
But I have been involved with young people all of my life. I always babysat. I've always done arts and crafts. I've always been engaged and involved in doing some type of activity with them. Even just having them around. I don't have any children of my own but I always have children with me. So, the more and more I was doing things, the more clear things became to me that this is what it is and I find the most joy in working with the young people. And I'm most excited when I'm talking about them or we're doing different things. Then I have the opportunity to work with them in some capacity or another.
JS: Were you raised in the church? Was your family involved in the church?
AK: Yes. I remember well one of the most significant things with my upbringing [in church] when I was younger – and I can't remember exactly how young perhaps in the 4th or 5th grade, something like that. There was a church bus that used to come around our neighborhood from a church called Bible Baptist Church. And I believe they still exist and they're in Turtle Creek. And so, I used to go to church on the bus all the time. And I guess that's really where my foundation came from or was more solidified. And then I began to go to a local church as far as Sunday school. But my mom, my grandmother were all raised [to be] Godfearing and teaching us those things that we needed to be proper and just doing the right things, those morals and values.
JS: So, you were raised in the church?
AK: Yes.
JS: What do you think your single most significant accomplishment is? What can you pick out of the pile of all the things that you've done and put forward and say this is perhaps the most meaningful for me at this point in my life?
AK: It's basically the relationships I have been able to build up through the years with any one of my young people. I still see them now today and they tell me something that I did for them or they say thank you and that they appreciated me being there or whatever the case may be. And if they need me, I'm still available to them. And they trust me enough and can still come to me and ask me questions. Or maybe if they are trying to find out some information, I become that resource for them if they don't have someplace else to go. So, for me, that's the biggest thing.
JS: Look into the future. What do you see yourself doing in the next five or ten years?
AK: Just continuing to develop the pieces that God has blessed me with: my consulting and programming. And really being able to spread what I'm doing as far as the outof- school time program. The Steel Valley school district here will be a pilot program. It will be something that will be duplicated across the Mon Valley area so that as many young people as possible get the resources and the support they need so they can grow up to be the successful adults that God would have for them to be.
JS: Anybody's life impact you that you're modeling yourself after? Any models in ministry?
AK: There have been people that worked to support me and who were helpful of me. Two of them were teachers I had— one in elementary school, one in high school, they were really supportive. There were certain times during those periods where I had some rough times with family issues but they were there to be encouraging and to be helpful, to push me and to let me know that I could go forward that everything was going to be ok.
And as of recently, coming into ministry, there have been some people with my job. I call her my reverend mother. She is my spiritual mother. Those people and a few people that I work with in youth programming that have been and are still very supportive of me, encouraging and are like mentors to me. I can go back and ask them questions if I need to and if I need some opinions or another outlook or another pair of eyes.
JS: What do you do to stay fresh? Do you take walks? Do you read? Do you go on trips? What is it that you do that refreshes you and strengthens you in the midst of all the demands of ministry and working with youth?
AK: I like writing. I keep a journal. I don't write as much as I did but I'm trying to get back into doing that. But I like to journal every now and then. A poem might come on my heart that I'll write out. I just like to, in most of my down time, watch movies. I like the outdoors in the sense of being able to sit outside and just look at God's creation and take it in and to just really look at what God has painted and put things together. Kind of gives me a time for reflection and things like that. So, those are some of the things I do just for keeping myself together. And every now and then I get to read.
JS: You like movies. What are you favorites? Which ones have spoken to you?
AK: Some of my favorite movies are actually Beaches and Steel Magnolias – any movie that has to deal with friendship and longevity. And just people being supportive even during the highs and the lows even though they may fight or argue or get mad or things like that. Because friendship and relationships are very important to me and being able to have that unconditional love from someone else or a group of people is something that I like to have in my own life. So, those are the types of movies that I like to see.
JS: How about book in the Bible or verse or character or someone that always challenges you or inspires you?
AK: One of my favorite verses that kind of keeps me is Psalms 37:1, which actually reminds me to "Fret not thyself with evildoers and neither be thou envious of the workers of the iniquity." Sometimes I think we all need to be reminded of that. Sometimes things don't always work out the way [we want] but if you look around [you see] people who are not doing the work of God and don't even really have a focus on him.
Sometimes it seems like they are progressing and obtaining more than you but I have to keep that in mind. My thing is that only what I do for Christ will last. So, that helps me keep that focus. As long as what I'm doing I do for Christ, I know I will get the just reward that is due me. It keeps me encouraged during those times that I might get a little discouraged or I might want to just let it go.
JS: Arnisha, we are proud of you as a CUBM grad. You are relatively young. You've started organizations. You're doing what you love to do. Obviously, you have faith. God is blessing you. As we close our time if someone is listening in and they're saying, "I can't make it" or "What do I do with my life" or "She wouldn't understand my situation." What words of advice would you give someone who's listening and that would encourage them and direct them in the ways that you have gone?
AK: I would just encourage anyone to just always keep your faith first, to never give up on God because he never gives up on you. And to really take in Habakkuk chapter 2 that tells you to "write the vision and make a claim." Because sometimes, you may step out and begin to do things. But you never really write out your plans and goals where you can keep looking at them. If God has given you something, then you need to keep that in the forefront of your mind. If He gave it to you, He is going to make previsions for that blessing, for that gift He's given you.
So, don't be discouraged. Continue to push. Take time for yourself. And in ministry, it is important to learn how to say no because you can't do everything all the time. Just know where your place is and know the gifts God has given you and nurture them and work in them.
JS: Very good. Well, thank you again for your time. And you keep us posted on all your progress so we can pass on to our other alums and also to anyone who's following the urban heroes program so we can encourage them. We are so proud of you. Thank you so much for what you are doing. You are fully deserving of being an urban hero.
AK: Thank you very much. I appreciate the honor.
JS: God bless you.
AK: God bless you as well.


U R B A N H E R O E S