Audio interview home heroes << >>
---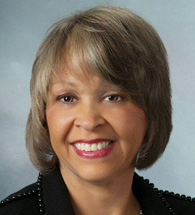 Karen Farmer-White
JS: Hello, this is John Stanko, back once again for another interesting interview, with one of the Center for Urban Biblical Ministry's Urban Heroes for 2009/2010. And in case you don't know by now, an Urban Hero is someone in our community who is serving, day in and day out, and it is worthy of honor, but may not receive the honor, because what they do may be more behind the scenes than some of our more public heroes. And today, I am talking to Karen Farmer-White on the phone. Karen, welcome to the Urban Heroes program.
FW: Thank you.
JS: Tell us. Tell our readers and listeners, a little bit about you and what you're doing right now.
FW: Okay. Well, I am the managing director of Mesirow Financial and I am working in the area of public finance. And we work with government and governmental organizations in funding.
JS: Funding what kind of things?
FW: Well, it would be funding infrastructure, or municipal bonds. That would be for buildings, roads, road repair, and in any kind of infrastructure improvements.
JS: So you're coming up with money to do very important things, but things that aren't very dramatic, but certainly crucial to the functioning of the community?
FW: Yeah, sometimes they can be dramatic too. You know if you build a stadium or you build a convention center, that's pretty dramatic.
JS: Yes, I was thinking more like roads and things like that ...
FW: Yes, we do that too.
JS: So you've been involved in some of those big projects?
FW: Well, you know what. I've just joined Mesirow about a year ago. And so, I haven't been doing this long.
JS: How did you get involved in something like this? Is this your background?
FW: No, no, no. It's not my background. My husband passed away a little over a year ago.
JS: And of course he was our Steelers' hero, Dwight White.
FW: Right. And he actually had been in this business since he retired from football. After he passed away, I was approached to see if I would be interested in running the Pittsburgh office. Because a lot of what I do is relationshiporiented, I knew many of the same people that Dwight knew. And it was really trying to keep the relationships going. So it's a new field for me, so I actually had to get certified and take tests. And so, you know, here I am. Never thought I'd be here, but this is where I am.
JS: So far, so good.
FW: Yep. So far, so good. I work for a wonderful company, very supportive, out of Chicago. Mesirow Financial. And yep, so far so good.
JS: And how do you spell that?
FW: M-E-S-I-R-O-W
JS: What were you doing before you got involved at Mesirow?
FW: I was vice president of education at WQED.
JS: Ahh. WQED. We were talking to another Urban Hero, Daryl Ford Williams. We interviewed her a couple weeks ago. So what were you doing again at WQED?
FW: I was vice president of education.
JS: And how long did you do that?
FW: 7 years.
JS: And what did that involve?
FW: I was in charge of all the education and outreach programs of WQED, with most connected back to WQED programming. So we worked with the schools, with community organizations, and really encouraged the youth programming with educational tools. So, areas like literacy, workforce development, arts and culture, were really the areas we focused on.
JS: You really have been through a major career transition.
FW: Very much so, yes.
JS: What did attract you to WQED and to that position? Did you have an educational background?
FW: Yes. I had worked in education and outreach for probably 10 or 15 years prior to that. And it was just a wonderful opportunity to work for public broadcasting and to be able to really broaden the scope of what I had been doing.
JS: Now are you a Pittsburgh lady? Were you born and raised here?
FW: I am from Beaver County. I am from Rochester.
JS: So talk to us…the journey to education. How did that come about in your life, where you were involved in education?
FW: Well I kind of fell into that. My parents were both educators and both graduates of Geneva College. I actually in college majored in history. I kind of really fell into education. I started out working at community college in the role of teacher and then as an administrator and advisor. And, it was really about connecting students to the community.
Actually, I guess my strength was community outreach. I ran their cooperative education program, which was really their internship program. And so through that, I made a lot of ties between the business community and the education community. And then when I left community college (I was there for about 9 years in different capacities), I was offered the position as the first director of community outreach for the Pittsburgh Cultural Trust. And in that capacity I developed education and outreach programs that are really arts and culturally-based for the cultural district. I worked with a lot of the other arts organizations – the symphony, the ballet, the smaller community organizations – to try to work wirh them on outreach programs to get folks into the cultural district.
JS: So when you say community outreach, is that more marketing, or is that just getting the message out, getting the people involved. How do you define that?
FW: It's probably both because it is constant marketing, but it's really getting people connected. At that time the Cultural Trust wanted to connect with populations that weren't utilizing the cultural district, or weren't coming into the cultural district. So it was programs for schools, educators, and families, but the main thing was to attract them to the cultural district.
JS: So you were involved with one foot in business, and one foot in education.
FW: Yes
JS: So, community college, the cultural trust, and then to QED?
FW: No. After that I was executive director of the program to aid citizens enterprise; PACE which is a United Way affiliated program. And, the main thing we did was reallocate United Way dollars to community organizations that probably would not fit the criteria to be a direct grantee of the United Way. And after being in that capacity, I could see some other needs that some of these smaller organizations had. So I started some technical assistance programming that we offered through PACE. And also, we had a college prep program for high school students that helped. Really we were looking at those students who had a C average, or maybe even a little lower, that needed to upgrade their skills to get into college.
JS: So it's a fair statement that you've spent your adult life very involved in western Pennsylvania and in the community here.
FW: Oh yeah, that is a very fair statement.
JS: And now, from PACE to QED?
FW: From PACE to QED.
JS: So, you have a perspective of a number of years. Are you encouraged by what you see in the community, I guess what are your encouragements and what are your concerns?
FW: Well, I do have both. The encouragement is there are a lot of organizations, larger organizations, that really do want to reach out. And they do want to help the community. I guess the concern is the lack of resources to have more of that happen. Especially with the economy the way it is right now, resources are less and less. And organizations have to learn how to become more creative with lessening resources. I do think there is the desire. I just think that there needs to be more resources.
JS: Let's go back to family. Grew up in Beaver County. And you said mom and dad were both Geneva grads.
FW: And cousins, and uncles, and ...
JS: So where did you go to school?
FW: Pitt.
JS: So you resisted the Geneva temptation.
FW: Yeah. You know my family, my parents really wanted me to go to Geneva, but I just needed to leave home. And go to this big city.
JS: Come to Pittsburgh. And you majored at what at Pitt?
FW: History.
JS: That's right, you said that earlier. Talk to us about family life. What was it like growing up in your household?
FW: I was the oldest of 4 children; 2 brothers and a sister. And my family really stressed education. And felt that was really, along with having a loving family, was the key to getting ahead. And so a lot of emphasis [on education]. My parents were both teachers, so everything was a learning process. I remember at dinner my father would always start out with: "Well, what did you learn today?" And no matter what it was that we did, any kind of experiences, he turned it into or showed us how to turn it into a learning experience. "That's something that maybe you never do again." Or, "Well, you know, that's good. So how do you build on that?" And so, it really created a way of thinking about experiences.
JS: What level of education were they? Were the elementary or high school or ...?
FW: Both were high school. They both got their doctorates, their PHDs for education.
JS: Where did they go to school for those?
FW: Pitt.
JS: So did they follow you, or did you follow them to Pitt?
FW: Actually, we were kind of there at the same time. My mother maybe followed me. I was there undergrad. My dad got his PHD at the same graduation where I got my bachelors.
JS: Ah, how nice.
FW: My mother finished a little later. Both of them were very inspirational, because both of them pursued all of their education degrees being married and having a family.
JS: Yeah, that speaks of commitment and hard work. So Geneva grads. They must have been involved with church. Were they church people?
FW: Yeah. We were members of Saint John AME in Bridgewater. And I still am. I never really joined any other church, although I don't get down there that often, but really go to other churches in the area.
JS: So were your parents involved in church? Or were they regular attenders? What level was their commitment?
FW: They were regular attenders.
JS: And how about you? I know you said you're busy and don't get there that often. Do you have any active roles in church?
FW: No. I really don't have a real active, other than I go. And I like to visit different churches.
JS: So, growing up you had a combination of strong parents, strong educational emphasis, strong church presence. All that mixed together to help make you who you are today.
FW: I had a strong extended family. It just wasn't parents. I had aunts, uncles, cousins. And I would say all attributed.
JS: And you stayed very connected to the local community and never moved away. And we're happy that you didn't. So talk to us now. What's your life been like? I'm sure the last year or two has been interesting to say the least.
FW: Yeah. But you know that you find the support of the family and friends that you have. And they really step up and help make a hard situation much easier.
JS: And you have children?
FW: 1 daughter.
JS: And tell us a little bit about her.
FW: Well, Stacy graduated from Hampton University. She is actually looking for a job right now.
JS: So if any of our listeners or readers… And she comes from good stock. You'd highly recommend her.
FW: Yes I would. Yes, but she is probably my biggest inspiration right now. And really has been, has kept me grounded through the last year. Encourages me, and stepping into this new career, she's been my chief encouragement along with my assistant here, has been wonderful. Her name is Susan Chunko, and she's been a wonderful support. I think the two of them have helped get me [through], along with friends, but the two of them have greatly helped me through this transition.
JS: What's been the biggest challenge making the transition in the last year, in your work?
FW: Oh yeah, it's the learning. I had to take the Series Seven Certification Exam, and it was like a foreign language, to have to learn the lingo and everything associated with the world of finance.
JS: What do you do outside of work? Do you have any hobbies?
FW: I serve on boards. (laughing)
JS: Do you really? (laughing)
FW: I get real involved with that. (laughing)
JS: That's your hobby. (laughing)
FE: I have no other time. (laughing)
JS: So tell us about the boards. What is the emphasis? Is there a common thread? Or it's just where you're needed most?
FW: More with arts and culture. I'm on board with homeless. Well, let me go through. Arts and culture. I guess the biggest, but the organization that's getting the majority of my time right now is the August Wilson Center. And my husband and I co-chaired, and I still co-chair, the capital campaign. So with raising $39 million to build a building, but the good thing is it's come to fruition and our grand opening is September 17th [2009].
JS: Congratulations. We are family members. I went down to the preview a couple months ago. And of course I work at CUBM here with Karla Byrd, and so I know all about that. So we are just so proud of everything that has transpired there. And thank you for your role in that. What do you see, what impact is that going to have on the city and the region, do you think?
FW: Oh I think a great impact. First off, it's a beautiful building.
JS: It is.
FW: And I think it will be a real focal point for downtown. But I think it also brings a knowledge and respect of African American heritage. To realize that that is a part of everyone's heritage. I just think that it's going to be a major attraction throughout the region. Not just Pittsburgh, but Allegheny County, Beaver County, Fayette County. It's going to have wonderful programming, and I think it's going to bring people together.
JS: Are you going to be involved in the community outreach, since that's been so strong in your background?
FW: Yeah, I'm sure if they need me. I've been really involved in the fundraising piece. And I've been on the development committee. So that's been really the focus. And governance. I serve as chair of the governance committee. So the focus has been getting the money to build the building.
JS: Sure. First things first. So that's one board; the August Wilson Center. What else?
FW: Well I'm on some state boards. I'm on the state board of education. I'm also on the National Association of State Boards of Education. So that's a national board that I serve on. I've just been recently named a member on the Pennsylvania Council on the Arts. I serve on the Allegheny Community Colleges Foundation board. I serve on the board of Bethlehem Haven, which is homeless.
JW: Ah, my wife. Ambiance is her favorite, her favorite store in the city. When I want to bless her, I take her to Ambiance, the consignment store. And she loves it.
FW: That's great. I serve on, I don't want to leave anybody out here. I serve on the advisory committee of the Heinz History Center. Did I say the Multicultural Arts Initiative?
JS: No. And they gave us a grant, to fund in part this Urban Heroes program. So we are honored and delighted and really look forward to making this happen year after year. How do you find all the time to do this?
FW: I don't sleep. (laughing)
JS: Really? (laughing)
FW: No, no, no. I mean I do, you make time. Oh, I serve on the board of the Pennsylvania Governors Conference for Women.
JS: You have to be a giver to be doing all of this. Again looking back, how did that value become so strongly engrained in you, do you think?
FW: Oh, definitely my family. I feel that I've been very fortunate in life that I had a good family, I had great support, they supported me. I had a good education. I did go to graduate school and actually worked on my doctorate at Pitt. I have a masters in public administration.
JS: Any plans to finish the doctorate?
FW: Eventually, maybe.
JS: Well okay. You're in the home stretch there then.
FW: Yeah, but it's a long home stretch. But anyways, my family always preached that all of us had been fortunate and so it's very important that you give back, because that's God-given and I've just been lucky. I'm sure there are a lot of people who have the same intelligence that I do, personalities similar, but may have not had the advantages that I had in a supportive family, in schools, good schools and teachers who were supportive. And so it's important that people who get those advantages give back.
JS: Sure. You mentioned possibly finishing up the dissertation. What's still in the future for Karen White? What haven't you done yet that you'd like to do? Or what do you see emerging over the next 3 to 5 years?
FW: Oh who knows. I'm still growing up. I'm still trying to figure out what I want to be when I grow up. You know I've done so many different things. I'm sure I'm going to be in this business for a while. But I'm always growing. You asked what are one of my favorite quotes, and it was one that was my father. It was our family: "Education is a lifelong process." And you never stop learning. Learning is a lifelong process. I think, I'm open to new ideas. So who knows. I wouldn't want to put myself in any kind of box. I'm open to new experiences and new challenges. I think that's always been; I've thrived on challenge.
And in most cases, I was the first person to do this, I was the first director, or I was the first executive director. I had the energy to do that. I'm not really a maintaining, maintenance type of person. I'm a startup person. And I love starting programs, which I'm not doing now. And that's why I think the connection to boards and outside organizations gives me the chance to still do that.
JS: Do you write at all?
FW: No. I don't write. I did produce, was an executive producer, of a few shows and actually won three Emmys, while at WQED.
JS: Looking back now Karen. We get a little older. We get reflective and can have a lot more to look back on. What's your most significant accomplishment to date? What's the one thing that you could pull out of the pile and say of all the things I've done, this one may stand a little bit above the others.
FW: I guess the August Wilson project. To have been involved with it for so many years and to see it go from a dream, on paper, to fruition, is a great accomplishment. And it took a lot of people to do it. But just to have been a part of that, I think, was a wonderful accomplishment that I'm really proud of, proud to be a part of.
JS: Besides your parents, anyone you look back on. Any historical figures, or any books, plays, anything that played a very important part in your development?
FW: Yeah you know my family was really the driver.
JS: Didn't need any more.
FW: I didn't need anymore. I mean I love to read and watch movies. But the driver to me, and my motivation, was family.
JS: You've got to do a few things to relax. What refreshes you? Do you go to a ballet? Do you go away for a weekend?
FW: I go to arts and cultural…
JS: Arts and culture really is it for you.
FW: Well I do that. I go to movies. And I do needlework. I do some travel. So I guess all of the above. You can't put me in a box. That's one thing about it. I'm all over the place.
JS: Somebody coming along now. You have a chance to speak into them, mentor them, impact them. They're asking, "What difference can I make? And can I even make a difference?" What words of wisdom ...
FW: I think everyone can make a difference. And I think everyone has some skills… First off, I think it's really important to know yourself. Know what your strengths and weaknesses are. And try to strengthen your weakness. But your strength, you have something to share. Set your goals high; work to achieve them. Don't be afraid to ask for help. But I guess I'm all over the place with this too. But I think you need to know yourself. And you need to kind of understand yourself. And sometimes that's hard for people. And to be able to admit what your weaknesses are.
JS: What's the most important thing you've learned about yourself in the last year or so?
FW: Oh gee. I guess that I'm more resilient than I even thought.
JS: Yeah looking back 18 months ago, if you'd have thought you were going to go through ...
FW: Would have never thought. No. Never dreamed that.
JS: Well Karen, we want to thank you again for your generous offering of time here to be a part of the program. There are many people who look up to you and admire you in the community and who are applauding your efforts. And we certainly want to be one of them in celebrating you as an Urban Hero. Thank you for all you have done, all you are doing, and will do. And we look forward to your story, inspiring many other people to keep on keeping on and doing what it is that they are doing, or may be called to do in the future.
FW: Well I thank you for this recognition and thank you for all the good things that you do.
JS: Well thank you for that. And you'll be hearing from us. And we look forward to giving our readers and listeners updates on good things happening in your life.
FW: Thank you so much.


U R B A N H E R O E S