Audio interview home heroes << >>
---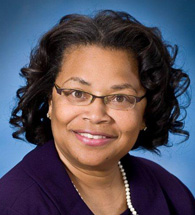 Karla Threadgill Byrd
JS: Hello, this is John Stanko, back once again for an Urban Heroes interview. And today, I have the special honor of interviewing my friend, my boss as she likes to tell and remind me, my co-worker, and the co-founder of the Urban Heroes program, Mrs. Karla Threadgill Byrd. So don't think that she's in this because we were told she had to be in it. She qualifies as an Urban Hero. And she was nominated by someone outside of the Center for Urban Biblical Ministry. So, Karla, it's good to have to here. Thanks for starting the program.
KB: Oh, you're welcome. It's been a pleasure to work with you.
JS: Well, thank you. Tell us, our listeners and readers a little bit about the Center for Urban Biblical Ministry, who is sponsoring the Urban Heroes program.
KB: That's my pleasure. The Center for Urban Biblical Ministry is an institution founded by African American pastors in 1988. They realized the need to have accredited academic education. They came together as a collaboration and put the Center together. What makes us unique is that we are accredited through Geneva College. So when you come to the Center for Urban Biblical Ministry, you earn an academic college degree.
JS: So, [you are] connected with Geneva College. But who comes to CUBM? Talk to us about the typical student that will be here.
KB: Our students currently are non-traditional students. That means that they're an older student. The age is approximately 30 to 35, up to 70. These are people who want to go to college. They've lived their life. They realize that education is important and they want an accredited degree. We started a new program called A Brighter Pittsburgh. And these students are traditional college age. We have two of them, we're so proud that we've been able to start. We're offering the same opportunities that we're offering our traditional population. Our prayer is that they would stay with us for a year and earn 30 to 35 credits and then go to a traditional four-year program.
JS: So, let's go back to what you call the non-traditional student. Walk us through what they have to go through to take classes. What are some of the things that they would experience when they come to CUBM?
KB: Well, the first thing that they'd need to do is to come in. Most of our students are very leery of starting the educational process. We invite them to come in and we work with them. There's an application that they need to fill out. And for most of them, they receive excellent financial aid. They are eligible for federal aids, state aid, and of course we give them a CUBM grant, which means that they pay 60% of what a traditional Geneva student would pay on campus.
JS: So does this group present special challenges educationally, for you and the Center for Urban Biblical Ministry?
KB: I would say they present opportunities. They become part of a family. We are the CUBM family and just as though we were related by blood, we're going to walk them through every step of the way. Keep in mind that our students are older students. So they generally have young children that they're taking care of, maybe even grandchildren. They also, on the other end, have parents or grandparents that they're caring for. The majority of our students work a regular job. They're active in church ministries and other social organizations, and they're coming to school. They're doing this all at the same time. So as a family, we are going to support them.
JS: How did you get involved with the Center for Urban Biblical Ministry? How far back do you go, and what brought you here?
KB: I'm entering my 12th year with the Center for Urban Biblical Ministry. I came on at a time when the Center wasn't doing as well as it is doing now. Not knowing that, I was just thinking that if it was God's institution, it needed to succeed. And God really has blessed us throughout the years. He's given us everything that we need, when we needed it. So it's just been a blessing to work here.
JS: Now before you came to CUBM, what were you doing, right before you came here?
KB: I was administrative assistant to the pastor at Baptist Temple. I did that for, I guess, three to four years. But before that, I was a Pittsburgh Public School system teacher.
JS: And what age were you teaching when you were in the public schools?
KB: I taught 3rd through 6th grade.
JS: Well, that must be a pretty big transition to go from 3rd to 6th graders, through Baptist Temple, on here to CUBM.
KB: They have more similarities than differences.
JS: In what regard?
KB: Well. People are people. They're just older…
JS: Students are students?
KB: Yes, absolutely. So my way of working with people is for us to come together and to work together, to solve problems, to help them create good learning opportunities. Just for us to work together, so that in Christ we are changed people, and we get to see those changes.
JS: Your degrees are in education?
KB: Yes. I have my undergraduate degree in education. I have a masters of arts and teaching and I also have credits at the Reformed Presbyterian Theological Seminary.
JS: Where did you do your undergrad?
KB: California University of Pennsylvania. Proud of it.
JS: Now, you're a Philadelphia girl, right?
KB: Oh, absolutely. Love Philadelphia.
JS: How did you end up at Cal U.?
KB: Fortunately, I saw it in the guidance counselors office; I saw a catalog that said California, Pennsylvania. And I said, oh my goodness, isn't that unique?
JS: And you ended up going there.
KB: And I applied.
JS: But we were talking earlier. You're not the only one in your family that went there?
KB: Yes. I think I set a trend. My sister went there and graduated. And I have a younger brother who went there and graduated. My other two siblings went to Cheney.
JS: So how come you didn't go back to eastern Pennsylvania? What made you stay in western Pennsylvania?
KB: Well, after I graduated from California, I went to the University of Pittsburgh to earn my masters degree. And I was offered a job teaching with the board of education. And by that point, everything was here in Pittsburgh for me. So I decided to stay here.
JS: So again. How many years were you in public education? How long were you teaching in the…?
KB: Almost 20 years.
JS: 20 years! And then how long were you at Baptist Temple?
KB: I think 4.
JS: 4 years. Now is that your church?
KB: That is my home church. Yes it is.
JS: And what else besides being an administrative assistant there? What other roles have you had at the church?
KB: I was head of the Christian education department. At one time I was co-superintendent of the Sunday School. And currently, I teach the young adult Sunday School class.
JS: Talk to us about going to a church in Homewood. How does that ground you? What does that do you for you as an African American leader?
KB: Well, Homewood is my community. So to me, it's where I'm supposed to be. I've had many different church experiences, but I love the people at Baptist Temple. When I was saved, I was in a predominately white church. So I've had that experience. Then we went to an African American church. So to me, I love Baptist Temple, but I'm comfortable worshipping anywhere there's the Spirit of God.
JS: And jumping back to CUBM now, or "Cubbem" as some call it. Is this your ministry? How do you see your work here?
KB: I see it as a ministry and I see it as my employment. It's a ministry because you have to invest a lot of time in it. But it's also my principle source of income.
JS: Having worked with you I have watched you in your involvement with the students. It's more than just a job. It is a family. Just expand on that a little bit more. What's the connection? Why do you feel so strongly about these students who are here learning, whether young or old.
KB: Well, I think we have a lot in common. One of the things that people probably don't know is that I went from an all-black school, from kindergarten to 4th grade, to an all-white school from 5th grade to high school. And I was one of those kids who kind of sat in the background. So I really didn't get the education that I could have gotten. And I think for a lot of our students, they really didn't get a lot of the K-12th grade experience that they should have gotten. So therefore, I understand where they're coming from. When you need to settle down and you really decide that education is what you want, you have to make sacrifices. But you also have to have someone there to encourage you to keep on going.
JS: Now, we went to Philadelphia a few years ago, to do some visits and to do some work. And you took me through some of the neighborhoods, and took me to your brother's house. Talk to us about growing up in Philadelphia.
KB: Well, growing up in Philadelphia, I grew up in two places. One was in the city, and the other was in the suburbs. In the city, I lived in an all-black community. I never, this sounds strange… I never really knew that there were a lot of white people in this world because we were the majority. We had an entire town there. And when we went downtown, it was different, but I never thought anything of it.
Then leaving there, my parents moved to the suburbs to get us a better education. And I went from an all-black experience, to an all-white experience. I really think both experiences have helped me a lot. And I took you to see the church where I had Catherine was baptized. That's my mother's family's home church. And I took you to where my grandparents bought their house. And my grandfather, my grandpop, was a great entrepreneur. He really started a business from the ground up. He became, you know, his income was very… It was good for back then. He owned lots of property, and just truly loved that area. And I took you to where my brother lives, which is where I grew up from 5th grade until now. Went from an all-black experience to an all-white experience, and I was just in culture shock, I guess, for the first couple of years. And I just learned to adjust.
JS: And your parents have, obviously, we've talked many times, had a major influence on your life. Tell us a little bit about your father.
KB: My father was born in, as we call it, Newark, New Jersey. He was an only child. He went to college when he was 16. Was really a brilliant man. Wanted to be a doctor. But that got interrupted by World War II. He married my mom. They moved because my father couldn't get a job in Newark. My oldest brother was born in Newark, but he couldn't get a job there. So he went to work in my mother's family business. We lived in Philadelphia, which was about 20 miles from where my father worked. He was a Boy Scout leader. And he had one of the first African American boys to become an Eagle Scout in Philadelphia.
JS: I didn't know that. And so what was the nature of the family business? What was he doing?
KB: Moving. It was Hill & Perry and they moved people in the greater Philadelphia area.
JS: And was he involved in church? Was he a church man?
KB: Believe it or not, I saw my father baptized, which scared me. I swore I'd never get baptized. It was at night, and they were moanin' and groanin' and cryin' and singin'. I said, "I'm never going to have this happen to me." And it didn't happen until I was older and could understand what was going on. So I saw him baptized. It was Rev. Henderson. Beulah Baptist Church, which still exists now, but it's on Spruce Street in Philadelphia.
JS: Could you see a change in your dad's life after he was baptized?
KB: I always thought that my dad was the type of Christian who did more. He lived his Christianity. He didn't go to church a lot. He made sure his family went to church. But he'd go to church for baptisms, weddings, and funerals. That was his policy.
JS: What lesson did he impart to you? What work ethic? What words of wisdom?
KB: My last name is Threadgill and we work. That's what we do. If we need something, we go get a job. We don't wait for things to happen. And that's what I try to tell my daughter. Your name is Threadgill. You work at what you do. You get there early, you do what you need to do, you come home. If something needs to be done, you need to get it done.
JS: Talk to us about mom.
KB: I loved my parents, but I really loved mommy. Good woman. It was amazing to me. I didn't know what it meant be a Christian. But, I realize how strong she was. The older I get, the more strength I see in her.
JS: The wiser we see our parents are.
KB: Yes. All of the sudden they become so smart.
JS: So talk to us about, did she work? Was she a housewife?
KB: Until I went to college, my mother was at home. I am 1 of 5 kids. But my youngest brother is 13 years younger than I am. So she was at home. When I went to college, she started working part-time. Both my parents are college graduates. They graduated from Morgan State, and that's where they met of course because my mother is from outside Ardmore, Pennsylvania and my father was from New Jersey. She did work outside of the home once I graduated. And her goal was for us to all go to college. So there are five of us. Four of us have graduated from college.
JS: And where did you get your education desire, for teaching, if you didn't get it from mom or dad? Where do you think that came from?
KB: Well I think teaching, for the Threadgill family, is a family business. My mother was a teacher, I'm a teacher, my brother is a teacher, and my sister is a teacher. So, three of the five children are teachers, the ones in the middle. The bookends both did something different.
JS: You mentioned the phrase "family business." I've heard you talk about that in the past in talking with students and just in general about a life philosophy. Expand a little bit about what you mean by "the family business."
KB: Well, one of the things I realized with working with people is that usually there's something that your family is inclined towards. I don't know if it's a genetic thing, or an educational thing, or if it's environmental. I personally think it's more environmental than anything else. I have a friend, and there are 10 children. And they're all in medicine, because their father is a doctor. So for them the family business is medicine. For us the family business is education. I do think that you deviate somewhat from that. But for me, I think when you have something that's in your genetics or it's in your environment that you move toward that."
JS: And if someone didn't have a family business, then it's time that they start one.
KB: Create one. Envision in your mind what you want it to be. Speak it and move toward it.
JS: You are a Threadgill. You maintain that. Makes it a long check to write. A long name to sign. Karla Threadgill Byrd. But talk to us a little bit about your second last name - Byrd.
KB: That's my husband, Oliver Wendell Byrd. I'm very happy to be married to him. He is a worker bee too. People would not realize how much he works and what he does. But one of the things I always say: the two smartest people I know are my dad, and Oliver.
JS: And talk to us about some of the things he's done in the community. Because I know you've been involved in those things one way or the other. What are some of the things that he's done?
KB: Well, when I first met him, he worked for the United Way on their allocations committee. He was on the board of the United Way. Then he transitioned to chairman of the board of the United Way. So we ran two capital campaigns for the United Way. Right now, he chairs the August Wilson Center for African American Culture and that's been for 12 years. It's been a dream. It's been a process of 12 years. How to create something from the ground up? And prayerfully, in September, it will open.
JS: What's the next project for him, you think? Or just that going, getting that going and running.
KB: He always says his project is that he is going to stay at home in front of the television. But I doubt that. I doubt that.
JS: So that has obviously pulled you into the community. I always say if I need to find out who somebody is, I ask you. And if you don't know, you ask Oliver. And if he doesn't know, we ask Inez Miles. But what's your view on the community. What are you see happening now? What are your concerns? What are the opportunities?
KB: I think that at this point, there's some concern that I see people are coming back to the city. So that's pushing the African American population out of East Liberty, and I'm beginning to see that's going to push us out of Homewood. So the problem is: our economic base. Where is it? Do we have one? We can see in the Hill what happened. Crawford Square. Now they've cleaned everything up to Kilpatrick. So where do we go?
JS: And the same thing may happen on the North Side, as they work with the casino. You know, trying to, in the interest of economic development, clean things up. So you're concerned for the African American community in Pittsburgh, and where do they go?
KB: Where do they go? Why can't we stay where we are? And I guess my other big concern is public education. There is a real problem for me, when the Pittsburgh Promise gives money, and African American students don't qualify for the money. That's a problem.
JS: But you mentioned earlier that CUBM is trying to address that situation called "A Brighter Pittsburgh." Go back to that for a minute, and just try to expand on what your objectives and goals would be there?
KB: Our goal is to take students who haven't thought about college, or who have thought about it and it hasn't worked out for them to be accepted into a college program. We're looking for that student who is thinking about going to college, and they say, "Okay, I need an opportunity." And they come to us, we'll work with them for a summer, or on Saturdays, prepare them, and then admit them to the Center for Urban Biblical Ministry, which is a Geneva College program. We will have them take classes with us as full time students, 12 or 15 credits. Also help them to find employment, if they need it. They will stay with us for the fall semester, spring semester, summer semester, and then transition to a 4-year college, or they can stay with us for another year.
JS: I can speak to it because I'm an insider. But if I wasn't, I think I'd still say: that sounds like a lot of work to me. Why bother?
KB: Oh it's so important. It's so important that our young people know that. They're young. Give them a chance. Give them a chance. And if they fail, give them another chance. Our generation I'm older ...
JS: We're the same age. (laughing)
KB: (laughing) We're the same age. We need to be interceding. Isn't that what God did for us? We need to be interceding on their behalf, encouraging them to be all they can be. Yes they made mistakes, but so have we.
JS: So when you say interceding, you're not talking about the needs of prayer. You're talking about a very proactive, coming alongside to assist and help them. And so "A Brighter Pittsburgh" project is taking these young students by the hand. And I don't mean that in a childish way. But we're taking them by the hand and walking them through what it's going to take for them to succeed at a college level., so that after the first year, they have a reasonable chance to go someplace else and succeed. Is that accurate?
KB: Yes, that's absolutely true.
JS: So that is what you're probably looking at for the next 3 to 5 years as your major project.
KB: Maybe.
JS: You have other things?
KB: I haven't thought of them yet, but I might. (laughing)
JS: (laughing) CUBM: Do you think it will grow and expand? The nontraditional students; will they keep coming? Do you think there is an ongoing market and need for what you are doing with the older students?
KB: Yes there is. When I started, we had one degree: Christian Ministry. About five years ago, we added Business Administration. And this fall, we're going to add Human Services degrees.
JS: And all of that has happened since you've been a CUBM. Looking back now, as we get older, we get more reflective. And you've had some significant milestones and things. What do you think your greatest accomplishment… What would you pull out of the pile and say, "This is it." This is the one thing I would look at and say that's been my most significant achievement?
KB: I guess there are two. One is being married for 22 years. And as a result of that marriage, we have a wonderful daughter, Catherine Thelma Byrd. She'll be entering college this fall. Just working with her, learning what it means to be a parent. Parenting is sacrificial giving, all the time, everyday. And no one could have convinced me of that until I had a child.
JS: So you said there were two things.
KB: Being married and Catherine.
JS: Now, earlier this year, or late last year, I had the privilege of attending the Jack and Jill ball, that you were involved in. Talk to us a little bit about Jack and Jill.
KB: Jack and Jill is a group of African American mothers. We found an organization out of my home city, Philadelphia, and we come together to provide experiences for our children and other children, in an African American setting. We have a ball that's our signature event. It's a Pittsburgh chapter signature event, and we have it every other year. And this year, we presented 16 young people. And we just had a wonderful time doing it. I did it with my friend Carlotta Burgess. And it's always at Christmas-time, which makes it special. And it's just a wonderful thing to see; African American children, it's a rights of passage for our chapter. And Catherine's been in Jack and Jill since she's been 2.
JS: And she's been involved in another organization for a long time. If I remember, every Tuesday night you would disappear and you would go.
KB: Girl Scouts!
JS: Talk to us about Girl Scouts.
KB: I love scouting. Scouting is changing now. I'm hoping that they're keeping minority scouts in mind. But, I've been a Girl Scout leader for 13 years. I've been involved with scouting for 27 years, which included the years when I was a Girl Scout. For me, scouting provides a way for mothers to provide experiences for their children that that wouldn't normally do. I love scouting.
JS: So, are you out of scouting now? Or do you think you'll be pulled back in at some level?
KB: I never want to leave scouting, I just don't want to have to do it every Tuesday night. My hope is that I'll work with a troop, and have the girls finish their silver award and their gold award. That's my goal.
JS: You were also involved with Cal U. alumni for a long time?
KB: Oh yes. I helped to found the black alumni chapter. And our goal was to give a scholarship. We do that once a year, we give to the students their scholarship. That was a difficult situation, because California, when I went there of course, was turbulent times. So, coming back to California was painful. But I thought we needed to go back and give back and to help students in similar situations.
JS: We've asked some of our Urban Heroes about life defining moments. And I don't know if this is the one that most defined you. But you talked about the Birmingham [Alabama] bombings one time to me, and what that did to you. Could you speak to that for a moment?
KB: Well, when those bombings occurred, of course I was in high school. And I couldn't understand how someone could hate people so much that you would kill children in a church. And the bombers still claimed to be Christian. That was a defining moment for me, and I really started thinking about what is going on in the world, in a country that claims to be a Christian country. I think my other defining moment, and this was later in life was Anthony Campolo.
When I heard him speak, I had graduated. I was out enjoying life, and I knew I needed to change my life around. So God started putting steps in my way, or like in front of me. I'd either have to deny Him or go forward with Him. So that was a defining moment.
JS: So you really have had a rich mixture of experiences. In the white community, in the black community, yet I've heard you say many times, that we're Christian people.
KB: We are Christian people.
JS: And we need to act like it. Talk to that just a ...
KB: We say that we love the Lord. So if we love the Lord, then we embrace the Bible. If we embrace the Bible, then we need to live by the Bible. And what the Bible says, not what we interpret.
JS: Any favorite verse or passage?
KB: They that wait upon the Lord, He shall renew their strength. My other one is: And his name shall be called wonderful, counselor. That gives me so much hope because that's His name. That's the person I'm praying toward. So He knows who I am. And He can help me be a better person.
JS: You have a well-defined life philosophy that's come through many experiences. You still navigate very well in the black community and the white community. You're really almost a member of both, while still maintaining your identity as an African American. Is that an accurate statement?
KB: Yes. As a Christian person, I think, that transcends everything that I do. I should feel comfortable in any church. I should feel comfortable in any situation. Of course it takes prayer because sometimes when we are in a meeting and usually I'm the only one in there, the only black person in there. I pray: "Lord. Give me the words to speak. Let me be quiet. Let me represent You."
JS: As we wrap up, somebody's listening or reading, and they're saying, "How can I make an impact in my generation, in my day?" Maybe somebody's asking: "What's the use. Things seem to be more polarized?" What would you say to someone to encourage them, stimulate them to good deeds as the Bible says?
KB: I think, I like Paul as a writer, but my two favorite books are Esther and Ruth. And when I look for inspiration, I look to those two books. You know [it says in ]Esther, "[we were born] for such a time as this." Ruth did everything to take care of her family. And that's what I got. And the book of Psalms. Chapter 1, one of my favorite verses. We are like trees, planted by water. You know, you're planted, you're grounded. You know you lay a good foundation doing the right things for the right reasons.
JS: Well, Karla, thank you for the opportunity to work with you, to take the Urban Heroes program forward. For you being an example to so many. For you giving yourself so selflessly to the students, to the community, to whoever it is that God has you working with. It really has been an honor to be there firsthand. And I can say that you do live what you've talked about here. I've seen it day in and day out. We've worked together for 12 years. And it's been a wonderful experience. So thank you.
KB: Thank you.
JS: Keep up the good work and here's to many more years to come.
KB: God is good.
JS: Amen.


U R B A N H E R O E S