Update Required
To play the media you will need to either update your browser to a recent version or update your
Flash plugin
.
Click to listen to the Audio interview << Heroes >>
---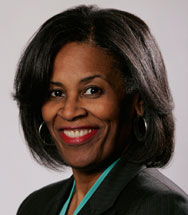 Sylvia Fields
Sylvia Fields has lived in Western Pennsylvania all her life, attended college here and still attends the church in which she grew up. Yet she has developed into a world-class servant leader who quietly leads in whatever situation she finds herself, especially where help for women who work and raise a family are concerned. We found it a bit more challenging to interview Sylvia, only because she was reluctant to talk about herself, but more than ready to talk about the needs and her vision for her community.
JS: Today we want to welcome Sylvia Fields to the Urban Heroes program. Hi Sylvia.
SF: Hello! How are you?
JS: Very well, thank you. Sylvia, you're with the Eden Hall Foundation. Tell our listeners and readers a little bit about Eden Hall.
SF: Well, Eden Hall is a philanthropic foundation. And our benefactor was Sebastian Mueller, who died in 1938, a cousin of the Heinz family, who made his fortune in the Heinz plant. We would call him a COO in today's terms. And he died with no heirs, and had very strong feelings about support for women who have to work to take care of their families. And so, the foundation, and we are probably about thirteenth in terms of size of foundations in the Pittsburgh area, and devoted to the supportive family and to mostly women and girls who mostly have to work; not to say that we don't do other things too. But that's where most of our energies are spent.
JS: How did the foundation get its name?
SF: It's named for his summer home.
JS: So tell us how long you've been involved.
SF: I have been with the Eden Hall Foundation for about 16 years now.
JS: You must like it.
SF: I do. I do. Very fulfilling work.
JS: And your role is?
SF: Executive Director.
JS: And is your background philanthropic work?
SF: My background. I graduated from Seton Hill College and my graduate degree is from Carnegie Mellon University.
JS: And so, you're a Pittsburgh girl. SF: I am. Westmoreland County actually. JS: My mother was too. Born in Latrobe.
SF: Oh my gosh. So not too far from Seton Hill College.
JS: Not at all. Not at all.
SF: St. Vincent's when they were all boys.
JS: That's right.
SF: That's when I was at Seton Hill.
JS: When I pledged Duquesne the pledge harassment was they took us out to St. Vincent's, took all our money and our coats in November and said, "Get back to Pittsburgh."
SF: Oh my!
JS: But I had family out there, so I called them, and we ended up eating well and drinking well and we were well taken care of! So tell us about family and about growing up out in Westmoreland County.
SF: Growing up in Westmoreland County was interesting. You could go from areas that were quite suburban, to rural areas where you rode horses and there were cows and that type of thing. So it was kind of a mixed bag. Not much diversity at all. And so we learned life lessons early, and not to judge people. And I think it made it easier for us in life.
JS: Tell me about your family.
SF: Large family. Six brothers and sisters. My father died when he was 36 years old, so, raised pretty much by a single mother, who had been a stay-at-home mom and baked brownies and cookies. When you got off the school bus, you could smell bread baking as you got closer to the house. And then my father died one day, and she was a widow with seven children to raise. And that's where it all begins!
I credit her largely with my success. She simply refused to give in, refused to be a victim, refused to feel sorry for herself. She had too much to do. So she began the task of moving the family forward. And so that meant everybody had to get in line and do their part. And that meant that she had to go back to school. Because what she had was a high school diploma only. So she had to go back to school and get more education. And she did.
I have vivid memories of sitting around the dining room table with my brothers and sisters, as well as my mother, doing homework. And we lost her just this past July. And a very interesting person. She was from the segregated south. And in her lifetime, she witnessed the aftermath of a lynching. And at the end of her life, she witnessed the first black president. So, she just was a very interesting person; lived during very, very interesting, yet challenging times for African-Americans, as well as for women. And she did quite well.
She really instilled in her children, this unyielding faith in God. Truly did. And a love of learning, as well as a powerful, powerful work ethic. I remember, I was the first person in the family to go off to college, and she was driving me up the hill to Seton Hill College. And if you've ever been there, it's this long, very, very impressive and winding driveway that goes up a steep hill, and it's tree lined. And as we were driving up there, she said to me, "You know, there are lots of people in this car." And I am thinking, what? And she said, "So they're all here. Grandparents. Great-grandparents you've never met. Your father. There are people here who toiled in the fields of the South for 200 years, that we don't even know their names. But they're all here today with you. And they're all responsible for this day and this moment in time. Don't mess up."
JS: No pressure!
SF: But it worked!
JS: Now go back. What was her educational decision? What did she go study?
SF: Library science. And she became a librarian at Penn State in McKeesport, and stayed there until she retired.
JS: I guess that was an area that was potentially open for people, and women, of color at that point in time.
SF: I guess so!
JS: So you go off to Seton Hill. Were you the oldest of the seven?
SF: No, I was right in the middle. But I had older siblings who went to business school, nursing school, and that kind of thing. My brother, at the same time, maybe two or three days later, went off to Gannon College at the time. And he ran track for Penn-Trafford High School, which was our high school. And he was second in the state in triple jump. And so he went off on a track scholarship. I'm sure he got the same speech too.
JS: Yeah. He's not running alone, or jumping alone! So what were your educational decisions? What did you decide to study?
SF: Initially, I didn't know what I wanted to study. I just knew that it's where I needed to be. And for the Sisters of Charity, that's all you needed. Because they would show you very quickly what you needed to do, and where you needed to be. And I credit some of them also with my success.
JS: So was your family Catholic?
SF: No, we were Baptists.
JS: What role did faith have? You alluded to it. Dad's gone very early. What role did faith have in the family?
SF: In that we would be fine. To hold fast to our faith and believe and that we would make it through this. Almost everything we did, aside from school, centered around the church. We were always at church for choir rehearsal, Sunday school, church prayer meetings, just everything. It was very much a part of our lives and that's essentially what we did. And we were brought up in such a way, that we didn't view ourselves as not having a lot. As a matter of fact, we were quite conscious of other people who we thought didn't have, and were always doing something involved in different projects with the church, to help with the poor, delivering baskets at Easter or Christmas. Those types of things of service was also very much engrained in our upbringing.
JS: Where was the church?
SF: In Trafford. A little tiny church called Mt. Bethel Baptist Church. Very small.
JS: And so, faith is still a part of your life today?
SF: Oh it is. Very much so.
JS: You're involved in a church?
SF: Yes. The same church pretty much.
JS: Really? Wow! Lifelong member!
SF: Yes. Yes indeed. And when I look back on my journey through my years, there were so many things that could have happened, that it's no coincidence; that it really was God that was guiding the path of our family. And guides my feet to this day. I realize that to be in a position that I am, very difficult, and I look at the tremendous responsibility. My favorite quote was "to whom much is given, of him, so much is required." And that is the way that I live my life. And realizing that I've been blessed beyond compare. And that I was not blessed so that I could climb up the ladder and pull the ladder up after me. There was much for me to do.
JS: So you went off to a Catholic college. And you were saying about the sisters there, that if you didn't know what to do, they would tell you what to do.
SF: Oh yeah! Quickly!
JS: So that put you in line. So what did you do? You changed your major a few times?
SF: No, I did not. I was undecided going in. And then I became a political science major. And I really loved that field. Wasn't too sure if I wanted to go to law school or not, but did love that field. And came out, and then went and got the master's degree at Carnegie Mellon, at the Heinz School.
JS: And that was public policy?
SF: Mmmm hmmm, it was.
JS: I had been accepted when it was SUPA, School of Urban and Public Affairs. But God took me another way and I ended up in the ministry. But I even had a little fellowship, I was really, not heartbroken, but disappointed that I didn't get to go in that direction. Alright, so you finished CMU, and even when you finished Seton Hill, what was your job history?
SF: I went to work at Duquesne Light, and I was in the marketing area. And then later went to work in what they call the Community Relations Department. And they kind of vacillated that back and forth whether to develop an actual foundation there, or what have you. And to this day, I don't know if they ever developed a real foundation; I don't think they did. It's still the Community Relations Department that they have. And I worked there for many years, and then I came here.
JS: So the Community Relations was Duquesne Light getting involved in community initiatives.
SF: That's right, yes.
JS: And so, was this something that you proactively wanted to go into? Or is this something that just kind of opened up?
SF: It kind of just opened up. And there was a gentleman by the name of Regis Scabonis, great fellow, he's been retired for many, many years. He was a mentor to me, as well as many other people, and just a real professional, and a real good guy.
JS: So how many years did you work before you went to the foundation where you are now?
SF: Maybe 15 or 16 years total.
JS: What's your philosophy? What happens during that time? What shaped you or forms in you that prepares you for being the executive director today?
SF: In addition to the formal education, knowledge of the community. Knowledge of community needs. Players in the community. As well as on the other side, my colleagues that would from time to time, collaborate on projects. Those are the types of things that helped prepare me for what I do now. Understanding how systems work. Understanding about organizational management. A lot of business, what will work and what won't and why; budgets. So it's that kind of thing.
JS: So it was fairly decent preparation. So talk to me about the transition out of Duquesne Light. How did God order those steps?
SF: Well, at the time, and I know people say this all the time – "I was not looking" – but I wasn't. And, our children were young and just wasn't looking to make a move. And someone approached me and asked for my resume. And it took me a while before I actually sent it; kept forgetting about it. Finally, came and interviewed here, and I was interviewed by four people who I actually fell in love with during the course of the interview. They were good people, they were spiritual people, and I could sense that. And I just remember thinking to myself, they are great people, and they really have a vision for what they want to do. And I thought to myself, wow, wouldn't that be nice! And it happened. And it has been a fantastic learning opportunity.
JS: So what's your initiative or what's your strategy been over these last years with Eden Hall? What have you brought to the program or the organization that you didn't think wasn't really there before?
SF: I think a more broader sense of our value and as a partner in the community and as a funder. And I think, my personal experiences, and helping to enable people to move from a circumstance that maybe isn't desirous, but people having a desire to change or to do better, or not necessarily having the means or direction, not knowing how to do that. I bring that. And also just a real sense, and especially for women, women who struggle, I bring a can-do, it can be done attitude.
I know. I was a part of that, as a little girl watching a woman lead. It isn't the way my mother would have necessarily wanted it. But it's what happened. And so, being prepared, and not throwing up your hands and giving up. And not thinking, as some people do, the only way I'm going to make it out of this is I've got to quickly find another husband or another whatever.
And you can make it. You can trust, trust in God. You can just put it all in His hands, and that's what she did. She just laid it all on the table and I could just imagine her saying, this is scary as heck. I'm just going to close my eyes, and I'm going to hold on to the back of your shirt, God. I'm just going to follow, and I'm just going to close my eyes.
JS: Besides needing more money, what are some of the greatest challenges you're facing today?
SF: In my position here at the foundation?
JS: Yes.
SF: Oh gosh. An increased need in regular human services delivery. And largely due to shrinking government dollars, public monies; it's increased the need of various non-profits. And they are turning in increasingly large numbers to the foundation community to make up that gap. And so, it then comes down to funding the best, and not funding lukewarm agencies and having to make that tough decision to say, this group over here is doing a lot more with less, and doing a really good job; you may want to merge. Or, just not funding that one anymore. It's almost like a survival of the fittest. Because we've all got to do more with less.
JS: Tell us about your family.
SF: Ah! Family is great! My husband is a deacon at the church that I mentioned. And my son, Justin, is a junior at Davis & Elkins College in West Virginia. And a lovely small college. I absolutely love it; Presbyterian. I probably didn't need to tell you that, did I?
JS: No you didn't. I didn't know it was Presbyterian, but I knew it was in West Virginia.
SF: And he transferred there. Most recently he had been going to school in Vermont. He loves Davis & Elkins, in that quaint little town. And then my daughter is a junior at Carnegie Mellon. She is an International Relations and Public Policy major, and is speaking Arabic. And so, she wants to go into government and change the world. So we'll see.
JS: What do you do to stay fresh? Hobbies or personal development things? What kind of initiatives do you take? I imagine the pressures can be pretty intense.
SF: Well, I'll tell you, most recently, my mother lived with us the last year of her life, so I'm kind of finding my footing. And what do I want to do at this point. And I'm thinking that I will probably embark on a doctoral program. Just don't know where and which one. But I think I'm going to do that. And, that's about it.
JS: Are you reading anything? Or are you a reader? Are you a listener? What do you do to get some input?
SF: I'm an NPR junkie. I'll tell you that. As well as, a lot of MSNBC. And what do I read? I read a lot of history. Very interested in America, Revolutionary War up to about 1820. I'm a Jefferson person. I could tell you anything about Thomas Jefferson.
JS: I just finished listening to his biography, the latest one that's out.
SF: By Meacham?
JS: Yeah, about use of power. Couldn't stop it. I have a 40 minute each way. I can finish a book a week. But that was a well written book, I thought anyway.
SF: You can't write a poor book about him. He is a fascinating character; conflicted.
JS: Yes. Against slavery and held slaves. The whole dichotomy.
SF: Well his lessons were dependent on it. And the thing of it is, one of the most educated men of his time. So no question that he knew that institution was not right.
JS: Yeah, he said as much also.
SF: But his livelihood depended on it; he had to eat. And then the whole thing with Sally (Hemmings). I'd love to have a conversation with him.
JS: And the promise that his wife made him make, that he would never marry again, put him under… And he did keep it!
SF: Yeah, he did. But look at what it… And you can see how that happened, because she was his wife's half-sister. And looked an awfully lot like her. So you really can understand, it must have been terrible, but you can understand how on his part that happened. But, the other part of me says, I believe she was about 14 or 15 when this began to happen. But by today's standards, that was a rape. And there's just no way in the world a 14-year-old girl would have been attracted to a maybe 44-yearold man. It just wasn't going to happen. And so that was a rape. And again, you want to say Jefferson, you knew better. You knew what you were doing. But, you can't use 2013 standards as an overlay for that.
JS: Yeah the tendency to revise or look back on it is almost irresistible. So what's yet ahead for Sylvia? You mentioned your doctorate. Any writing, any other projects or thoughts of what you'd like to accomplish?
SF: I'd like to continue the work with women. I think that's where it is at; with women and children. Women who are heads of household. I think so many things, if you look at that, so many of our shortcomings today as a society can be remedied. I think there's a lot of to be said there.
My mother, I lucked out because I had a strong mother who under the circumstances could do it. But I think she was extraordinary, but that doesn't happen all the time. And it's too much. And so you have kids that are on the streets that are half raised, and they have more children, and it just creates a cascading set of negative events. And you get what we have. High crimes, out of wedlock births that have just gone through the roof. And some of the other things: poor performing children in school. We've just, our families have disintegrated.
JS: Yeah I used to go off, I did a lot of work in Africa, still do, and I'd go off for three or four weeks, and I'd come and my wife would say, I don't know how single mothers do it. She said it was just tough enough with you being gone for a season. I knew you were coming back. I could threaten them with dad is coming home, and he'll settle this when he gets home. But it's tough. So what are some of the initiatives that you've seen that Eden Hall is trying to do to help address that issue of family and women and the need to support them, yet the need for family. What are some of the things you're thinking of doing?
SF: One of the things I'm really interested in; housing is a problem. And, one thing that I found out, that's really terrible, there are only a few homeless shelters, maybe one or two, that will accept an intact family.
JS: Yeah. Washington will do it, down in Washington, PA.
SF: Other than that, the dad goes one way, and the boys over a certain age. So you actually separate a family, that bond. So we need to think more about housing. It's going to cost a little more, but housing that will accommodate an intact family, and allow them to stay together, or housing that will not say to a woman, well you and your daughters can stay, but your 14-year-old son can't. So of course she's not going to leave her 14-year-old son. She's going to continue to sleep in the car, or wherever it is. So I think we need to take a real long and hard look at what we do there. We were involved with something a few years ago that enabled kids coming out of the foster system that were transitioning out to stay on until they were 21 years old. And before then, it was pretty much 18, and they could go. And what 18 year old is prepared to be unleashed on society? You can't take care of yourself at 18. It's hard enough at 21. So, those types of real basic things; I don't think they're rocket science at all. Real basic.



U R B A N H E R O E S